This week we have not one but two success stories from the Maths teams with both Primary and Secondary students demonstrating their mathematical flair!
Year 5 AIMS Maths Challenge 2023
Last week two teams of Year 5 Mathematicians headed to the AIMS competition at St. Christopher's School (SCIPS) in Penang.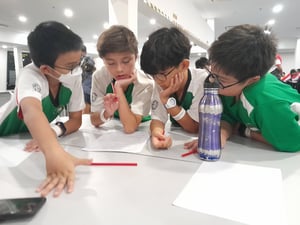 Both teams performed really well throughout the competition, staying in the top 3 (out of 19 teams) for most rounds. You can see the full breakdown of the results here.
The children showed incredible resilience facing not only numerous and very tricky challenges but also when dealing with disappointment when things didn't work out as they hoped. Team B (Leo, Austen, Matthew and Theo) were leading until the construction challenge which was a real 'win or lose' high risk challenge. Team B's construction collapsed when tested which halved their score for the activity, meanwhile Team A (Jake, Oliver, Sunny and Raelynn) had passed the weight test which doubled their score for that challenge. Final challenge-tangrams-has really tested everyone's patience and perseverance!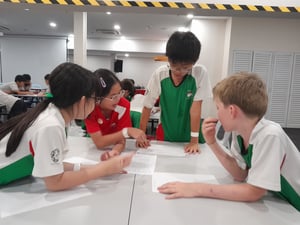 Overall, Team A won the competition and Team B has come 5th. It was a bitter pill to swallow for Team B who were leading for most of the competition but they were very graceful about it. Individually, Austen from 5S came 3rd in the competition. 🏆🏅💪
The children had an amazing time and especially enjoyed the enrichment activities at TechDom (interactive science discovery centre). They have shown resilience, teamwork and real drive to succeed throughout the challenge. They were wonderful ambassadors to the school. Lastly, hats off to SCIPS staff who had pulled off a well-organised and very enjoyable Maths competition, the first face to face one post Covid!
Intermediate Maths Challenge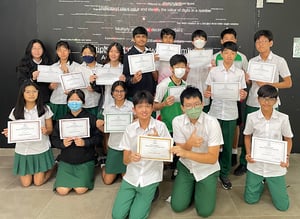 And there was more maths success at the Secondary School!
Congratulations to the talented students of the Alice Smith Secondary School for their outstanding performance in the Intermediate Maths Challenge! We're proud to announce 18 Gold, 13 Silver and 7 Bronze awards. Congratulations to Daryl and Andy in Year 9, Edison in Year 10 and Huan Sha in Year 11 who've secured their place in the prestigious Olympiad Round, competing against only 1500 participants worldwide.
Amazing achievement, well done! 🏆🏅💪 We look forward to seeing how you do in the next round.