We had the great pleasure of welcoming poet Sara Hirsch to our school last week. Sara is a British-born poet, director and educator and international Poetry Slam champion. She travelled all the way from her home in New Zealand to come and meet our students.
Year 5 and 6 were treated to poetry writing workshops with Sara. After starting off with a poetry performance, Sara then guided our students to engage with their own wild and inventive ideas. The sessions were great fun and you could feel the creative energy crackling in the room.
Sara used her assembly sessions with Years 3 and 4 to launch the FOBISIA poetry competition, which she will be judging. The theme for the competition is 'Where I Go', and judging by the number of entries that have been submitted already, Sara certainly inspired with her enthusiastic performance!
To round off the visit, Sara travelled to our Secondary Campus to conduct a final workshop with the English prefects. This session was focused on exploring Sara's writing process and analysing some of her work. Having a face to face session with a poet, sharing thoughts behind her poetry was a wonderful experience for all involved. Sara was blown away by the insightful and nuanced questioning of the students.
It was so fantastic to finally welcome our first visiting author since the pandemic and Sara certainly showed us what we have been missing!
Throughout the visit, Sara returned again and again to one key piece of advice - "You can't edit something that doesn't exist." So, pick up your pencil or dust off your keyboard and get those ideas flowing.
More information on the FOBISIA poetry competition can be found here.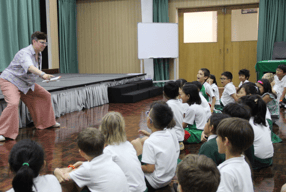 Alison Lyford
Primary Library Leader