We're really excited to hear we are going to be holding our first ever KLASS Science Fair! Over to Helen, one of our Year 11 Science Prefects to tell us more...
"On the 28th of February 2023, Alice Smith will be holding our very first science fair in which students are qualified to participate and present their own research topic which may include the following subjects: Biology, Physics, Chemistry, Maths, Geography, Design Technology, Computer Science, Sociology or Psychology.
The science fair will be split into two categories, Livingstone and Shackleton, which are named after illustrious British explorers.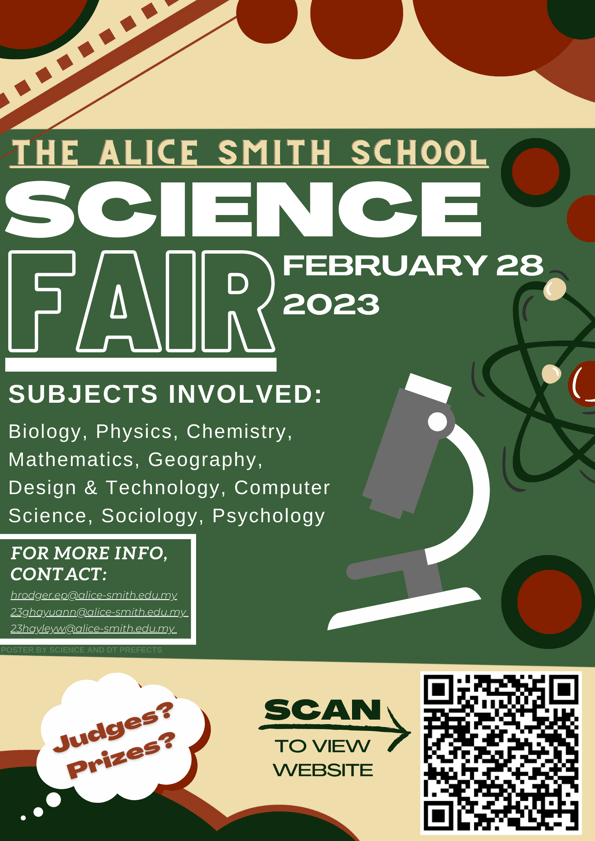 First and foremost, Livingstone is for students who wish to review and present ideas based on existing theories. This could include doing an experiment they have studied online, a demonstration, 'library' research or informational projects, and/or presenting 'explanation' models. This category can further widen students' understanding of particular subjects in which they are interested in, all the while giving opportunities for others to find their desired academic paths in relation to their interests.
Secondly, Shackleton is a more meticulous project in which students are able to propose noble scientific research or engineering practice and can share their findings with other students. For example, students may try to recreate an investigation to see if it holds true in a different environment or do their own distinctive investigation into whatever their passions and pursuits dictate. Nevertheless, this will require some careful consideration, and as such will be a tremendous learning experience to discuss later in university or job interviews.
Every students' projects will be displayed during at the Science Fair and will be viewed by expert panellists and scientists from all around Malaysia. Pre-eminent projects will also be given awards and chosen to represent our school in the Alice Smith Invitational Science Fair, competing against winning projects from international schools all over Malaysia. This will be an amazing opportunity for participants to showcase their creativity and passion to universities and future employers."
You can find out more by scanning the QR code on the event poster or heading to the website.
Thank you to Helen and we look forward to seeing lots of amazing entries next year!