The KL Coding Cup is back again! It was held at The Alice Smith School on 23rd September. The 4-hour event was led by Eugene and Jeremy. The aim of the event was to give young talented coders from KL the chance to compete and showcase their talents. The competition saw an impressive turnout of 150 participants ranging from Years 7 to 13 coming from 5 different International Schools in KL.
The brand new Coding Cup introduced a more exciting competition format, structured into three distinct phases where questions were released at different intervals. The theme of this Cup was centred around an "escape room" scenario, where students collaborated in teams to solve a series of programming questions that would lead to their escape. With a total of 56 questions spread across 11 diverse themed rooms, coders from all Key stages found opportunities to engage and excel. The competition added an element of strategy and surprise by increasing point values for challenging questions on the spot, demanding swift adaptability from participants.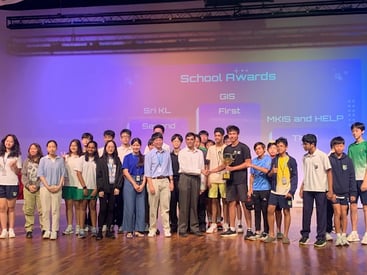 Congratulations to Garden International School for their outstanding performance in winning the trophy, with their teams securing first place in every key stage. Additionally, a special commendation goes to Sri KL for securing the 2nd position among all participating schools.
Aside from the lead organisers Eugene and Jeremy, we are incredibly thankful to have Derrick, Kok Jin, Huan Sha, Frederik and Adam joining the committee. Together, we created and designed uniquely themed questions whereas Fred worked on automating the answer submissions process. We extend a special appreciation to Derrick for his 'Trapped in KFC' theme which was recognised as the most unique design, Eugene's 'Computer Escape' which was voted as having the most creative questions, and Kok Jin's 'Music Room,' which stood out as the favourite among participants.
We would also like to thank our student helpers: Raisa, Qian Hui, Tristan, Erin, Ryan, Xian Lyn and Andrew for their voluntary assistance in running the event smoothly. Besides, a huge thank you to Austin Ngoi who worked backstage on the sounds and lighting. Last but not least, we would like to thank Ms Quaye and Mr Edmonds for their support in the organisation of the event and all the staff who were present during the day for their valuable contribution. The involvement from our school was truly commendable, and we are proud to have so many KLASS students exemplify remarkable enthusiasm and dedication throughout the competition.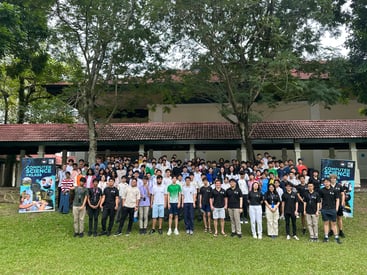 Overall, it was heartening to witness the return of so many competitors from the previous Cup to this event. We hope that the KL Coding Cup will keep on inspiring students to pick up programming as a passion and most importantly, we look forward to seeing more aspiring coders participate in the next Coding Cup which will be hosted by Garden International School on the 27th of January 2024. See you next time!
Click link HERE for photos.
~ By CS Prefects Eugene and Jeremy