The two KLASS values that resonate most with our Eco Club are kindness and respect - to ourselves and to our planet Earth. In this week's Secondary Blog, our student Eco Club members, Meeraam, Alexa, Letty, Noshin and Risa share how KLASS and the Eco Club are working towards a more sustainable future and how you can get involved too.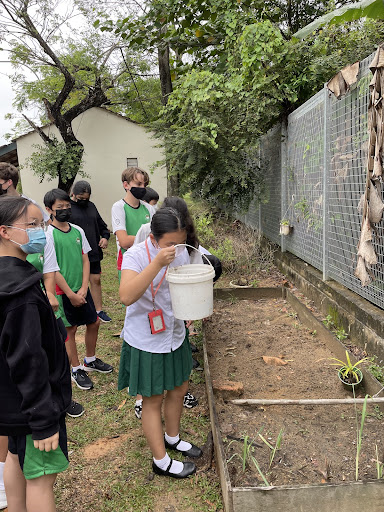 The increasing amount of non-recycled plastic (and other waste) has led to the polluting of our oceans and land. This is resulting in the extinction or endangerment of thousands of species of animals; nature is important and it is responsible for giving us habitats, food, beautiful scenery and diversity.
We should not enable a mindset of defeatism, that an individual cannot make a difference. If everybody thought like this then there would be absolutely no hope of saving our planet and we'd continue towards a destructive fate. Instead, if every individual made a small positive change, there would be a huge cumulative impact on our planet and its future. This impact would be felt in our lifetimes as well as securing a sustainable future for the following generations to come. KLASS has already made significant progress in including sustainability as a key strategic theme. For example, as well as utilising solar panels to generate electricity, the school collects rainwater to water plants and partners with sustainable organisations to create learning opportunities within our community.
There are many opportunities available at school to get involved with positive change for a sustainable future. You might increase your use of the recycling bins for aluminium, paper and plastic. This would contribute more to our collective recycling program that funds investment in the not-for-profit KLASS Apprentice ECA and give back to the community. Moreover, KLASS also recycles fabric and e-waste, so you may donate old uniforms, clothes and electrical items too. There's also an Edible Garden Club led by Ms. Szelesi, which we are hoping to grow into a community garden in the future. You might like to find out how the school currently works with external companies and lab technicians to safely dispose of any chemicals produced from our science experiments that are harmful to the environment.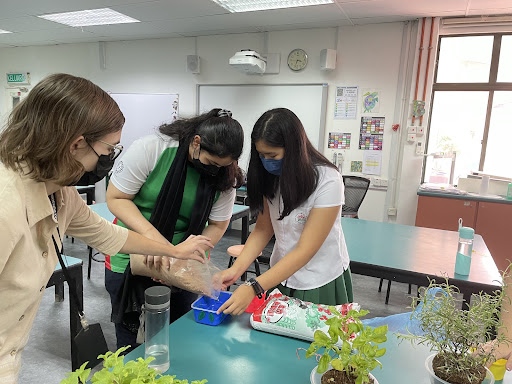 We at the Eco Club have not remained idle either! The environmental review we have done this year is driving a better understanding of the priority areas. We have identified water waste as an area requiring development and have developed an action plan for improvement. We delivered a whole school assembly to raise awareness on this important matter.
Just a few weeks ago, the Eco Club & the Edible Garden Club formed a partnership with Mr Harbir, also known as 'H', from Ground Control. H delivered a practical workshop on composting to teach us how to compost at home and know more about its benefits. We found out that composting is one of the most sustainable acts to do currently, as leaves left on the streets that could be used for composting are actually one of the most wasteful and harmful things in our environment! The Edible Garden Club members plan to build this into their activity sessions, using the compost made in school to grow and nurture their plants. If you are interested in helping out, do join the Eco Club or the Edible Gardening Club in the future!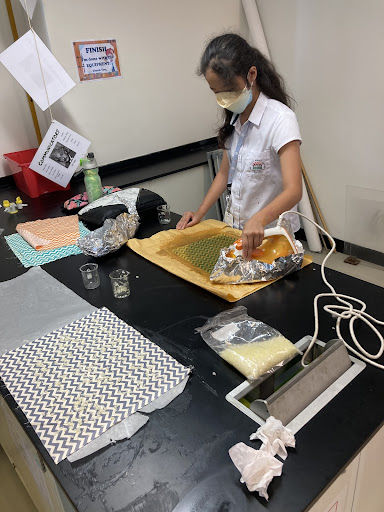 More recently, we partnered with the Student Leaders for Service to deliver a Global Goals Awareness Week. This involved fun, engaging and informative activities held during break and lunchtimes, such as creating your own herb garden, upcycling plastic into plant pots, and making beeswax wraps. We also partnered with the canteen to create menus specific to the theme for each day. For example, we had an entirely vegetarian menu to promote the 'climate action' goal, and a day where all meals were made from locally sourced ingredients to promote the 'responsible consumption' goal.
Through it all, we are still moving towards the goal of achieving the Eco Schools Silver Award and are well on track to submit our application by the end of Term 3. Term 2 was a busy but productive term, and we can't wait to see what Term 3 brings!
A huge thank you to our Eco Club for keeping us on track for a sustainable future.
Selamat Hari Raya Aidilfitri and wishing you all a wonderful weekend,

Maria Osowiecki
Secondary Principal