This term in Years 5 and 6, students have been learning about food and nutrition and have really enjoyed it! They have been exploring nutrition as well as foods and diets from different cultures. They have learned new culinary skills and techniques and whilst applying them have been evaluating, modifying and improving their work.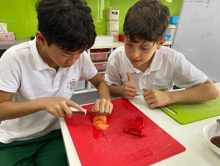 Year 5 students are currently in the midst of an amazing unit where they have looked at Middle Eastern and Danish foods for inspiration. They have made and eaten flatbreads with garlic butter and smorrebrod, an open sandwich, from Denmark. Some of the technical vocabulary learned by the students has included fibre, knead and unleavened. They have also reflected upon the different methods for bread making, for example, how flatbread is made differently to traditional bread and also how the consistency of dough changes when kneaded.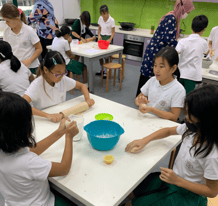 Meantime in Year 6, students have also been learning about food in the form of street foods from different cultures. Students learned how to make burritos, samosas and pitta bread with hummus and learned why you need to prove dough! A real focus within this unit was for students to reflect on their own diets and how their nutritional value could be improved. Students explored so many interesting questions and areas including, the fat content of ingredients, how to counteract the spiciness of a burrito and if cheese was bad for you?
Speaking to the students, as they wrote their reflections on their experience of making and learning about these foods, I was so impressed by their interest in what they were learning and how knowledgeable they were when explaining how much they had learned.

Alan McCarthy
Primary Principal