From trampolining to Chinese calligraphy, ice-skating to cooking with eggs, self-defence to coding, the skills demonstrated by our Year 6 Challenge students in their recent New Skill presentations were many and varied.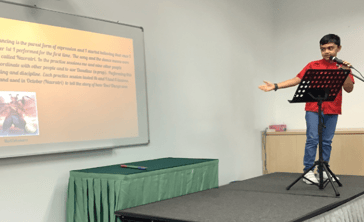 The Year 6 Challenge is often compared to a junior version of the Duke of Edinburgh's International Award. It is a demanding yet enjoyable series of activities which our Year 6 students can choose to undertake. This year, seventy-eight students signed up to take part in the award. For the New Skill section, students challenged themselves to learn a new skill of their choice and to spend six hours developing this before putting together a presentation to be enjoyed by their peers and parents.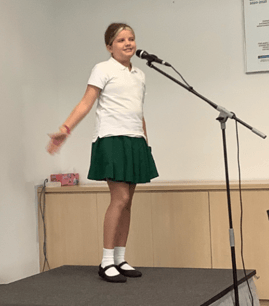 The standard of the presentations, both in terms of the students' slides and the quality of their delivery was extremely high and reflected the significant time, effort and energy that the students had put into ensuring that their presentation reflected the enjoyment and sense of accomplishment that they felt.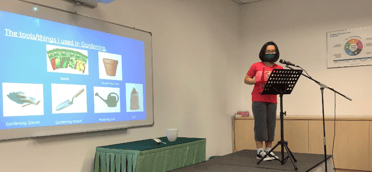 Having been fortunate enough to be able to watch all of the presentations, I was hugely impressed by the children's positive attitude, poise and clear delivery. There were undoubtedly some nerves but nevertheless, they presented their new skills with confidence and clarity. We were treated to demonstrations of skipping, self-defence and the live solving of a Rubik's Cube as well as being presented with examples of diamond art, pottery and hand-made dolls' clothes, to name but a few. Their experiences and presentations truly embodied so many of our character strengths with curiosity, love of learning and enthusiasm, not to mention courage, being extremely well represented.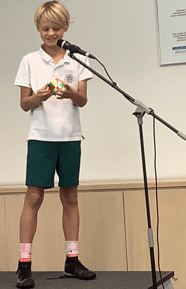 Beyond the detail of the individual presentations, the thing that struck me most was the number of students who ended their presentations by commenting that they have, or intend to, carry on cultivating their chosen skills. For me, this is the gift of the Year 6 Challenge; the opportunity to make choices, try new things and take part in new adventures that will endure into the future.
Katherine Clark
Year 6 Challenge Co-ordinator