King's Day is when the Dutch celebrate the birthday of their King 👑. Originally Princess' Day, it was celebrated on Princess Wilhelmina's birthday on 31st August. The feast involved many children's games and decorated streets. After the death of Wilhelmina's father, it was changed to Queen's Day.

Juliana, the next queen, celebrated Queen's Day on her birthday, 30th April, followed by Queen Beatrix who retained the same date. King Willem Alexander followed the tradition and switched what is now King's Day to his birthday, April 27th.

The Dutch royal family bears the name: House of Oranje.
This literally means the colour orange, and as a result has become the national colour of Holland.


On King's Day, the Dutch wear orange clothes and wigs and have many orange coloured decorations.
In addition, flea markets are held in parks and streets and people make a toast to the King with Orange Bitter, a bright orange liqueur.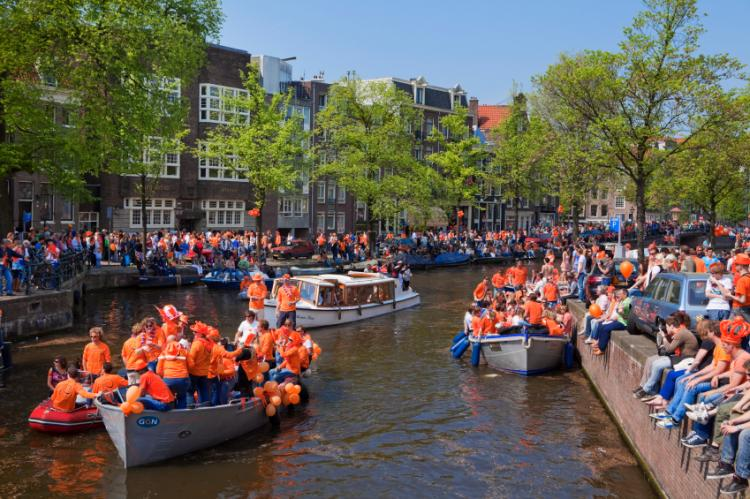 Did you know?
Holland and The Netherlands are the same. The Netherlands has only existed since 1581, whilst cities like Amsterdam have been around since 1275 and before. Historically more power was given to provinces or city states, so Holland was comprised of Amsterdam, The Hague and Rotterdam.
The Dutch East India Company was the first ever publicly traded company offering shares of its profits to its shareholders.
The Dutch are the tallest nation in the world! The average Dutchman is 183cm and the average Dutchwoman is 170cm.
50% of the country is at 1m above sea level or lower! Dutch communities have reclaimed nearly 30% of the land from swamps, tidal lagoons, lakes and the sea. A series of dikes and seawalls have been built across the country to protect it from rising waters.
Every 15 years or so Holland celebrates 'Elfstedentocht' or '11 Cities Ice Skating Competition'. When the canals freeze over in the Province of Freisland, competitors have 24 hours to complete the 200Km skate between 11 scenic villages.