We are delighted to see the university and college offers #KLASSof2023 are receiving. In this blog post, Asif tells us more about his college application journey.
I am thrilled to share my college application journey with all of you, and it has been such a wild ride! As a high school senior, I had my heart set on Upenn and applied ED, only to receive a rejection letter. It was a tough blow, and I questioned my choices and feeling uncertain about my future.
I decided to take another shot and applied to NYU Stern in the Early Decision II round, hoping for a different outcome. However, I was denied admission and offered a spot at NYU Shanghai instead.

From then on, I went all out and applied to 27 colleges. It was a gruelling process, emotionally draining and often uncertain. And then, the breakthrough happened.

I am incredibly grateful and humbled to have been accepted into 20 universities: Brown University, LSE, University of Warwick, University of Bath, University of Leeds, University of Manchester, NYU Shanghai, UCLA, UMICH, USC, Penn State, University of Wisconsin Madison, UNC, Boston University, Purdue, UC Irvine, UC San Diego, UC Santa Barbara and Wesleyan.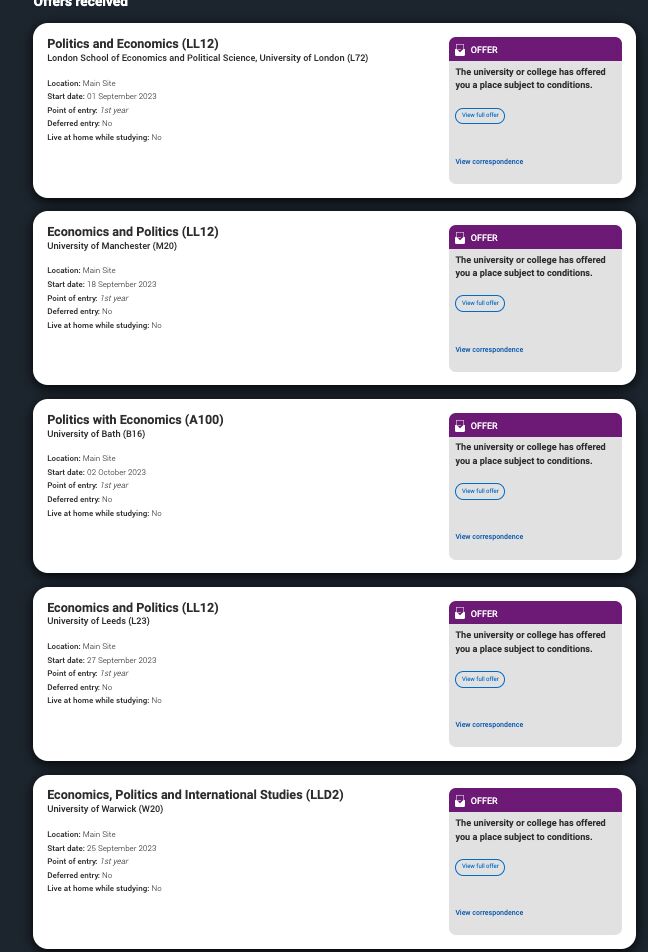 I would also like to acknowledge the universities that I was denied from, including Upenn, NYU Stern, UC Berkeley, Cornell, Columbia, and Duke. (I was waitlisted at Carnegie Mellon). While the rejections were tough to handle, I've learned that rejection can often be redirection, guiding us towards new opportunities that may be a better fit for us.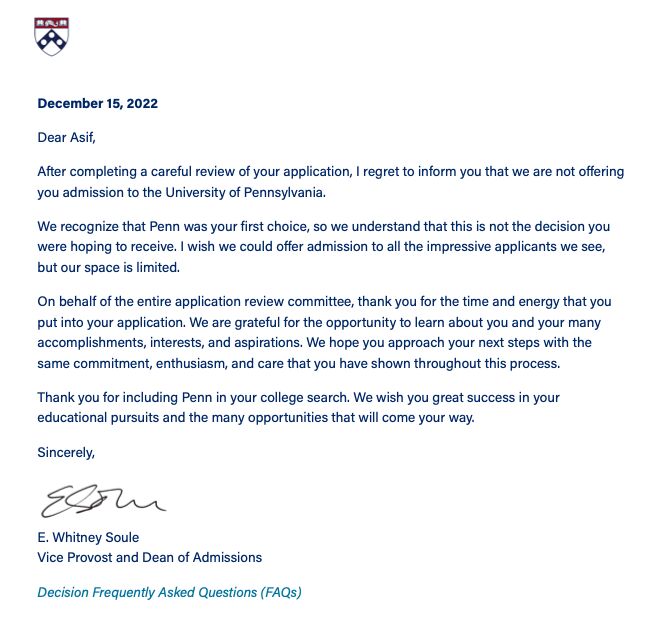 I owe my acceptances to my family, my teachers at St. Joseph's Institution International School Malaysia (Tropicana PJ Campus) and The Alice Smith School, and my friends for their unwavering support.

This journey has been a reality check for me, teaching me that things don't always go as planned and that rejection can be tough to swallow. But it has also shown me the power of resilience, the importance of perseverance, and the value of taking risks.

To all the fellow students out there, remember that college applications can be challenging, and setbacks are inevitable. It's okay to feel disappointed, but don't let it deter you from pursuing your dreams. Embrace the challenges as opportunities for growth, and keep pushing forward with authenticity and perseverance. You never know where your journey might take you.