What a busy term we are having celebrating the diversity of our student body. On 1st March we continued with our festivities to celebrate St David's Day, the Patron Saint of Wales.
Dydd Gwyl Dewi Sant (St. David's Day)
St David's Day or the Feast of St David, falls on the 1st March, the date of St David's death in 589 AD.

St David wasn't canonised until the 12th century, by Pope Callixtus II, it is only since then that this date has been celebrated in Wales.
Some facts about David:
David was born in the year 500 on a clifftop during a fierce storm. The spot is marked by Non's Chapel and a nearby holy well is said to have healing powers.
He was a renowned preacher, founding many churches in Wales. He reputedly made a pilgrimage to Jerusalem from which he brought back a stone which now sits at the altar of St David's Cathedral.
St David and his monks ploughed fields by hand and didn't eat meat or drink beer. It is believed he only consumed leeks and water, perhaps why the leek is the national symbol of Wales.
Fun Facts about Wales
The Red Dragon, the flag of Wales, was used by Henry VII at the Battle of Bosworth in 1485.The flag comprises the dragon of Cadwaladr, King if Gwynedd along with the tudor colours white and green. It wasn't officially recognised as the Welsh national flag until 1959.

Wales' highest mountain is Mount Snowdon or Yr Wydafa. Sitting at 1,085m high, it is home to the rare Snowdon Lily.
There are more castles per square mile in Wales than any other European country ! Wales has some 600 castles!
The national sport of Wales is rugby. The country's team play their home games at Millennium Stadium, Cardiff, which has the world's largest retractable roof.
The place with the second longest name in the world is Wales.
Llanfairpwllgwyngyllgogerychwyrndrobwllllantysiliogogogoch! Which means The Church of St Mary in the hollow of the white hazel near the rapid whirlpool and The Church of St Tysilio near a red cave!
Welsh is spoken by 750,000 people in and beyond Wales.
We tried some traditional Welsh Food!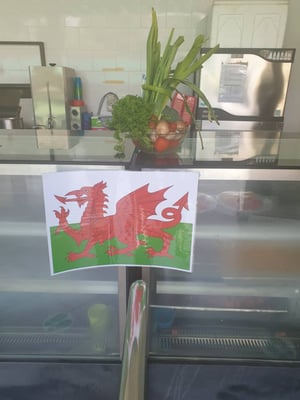 Delischool prepared some wonderful Welsh dishes for our students to try on St. David's Day.

Chef Rizzal at JB Campus made:

Salmon baked in pastry with mashed potato and mixed veg (A)
Rosemary lamb kebab with pasta and salad (W)
Leek soup with bread (V)
While Chef Asrul at EP Campus made:

Traditional Welsh Cawl with Bun and Salad
St David's Leek and Chicken Hotpot and Wholemeal Baguette
Glamorgan Sausages with Green Beans and Mashed Potato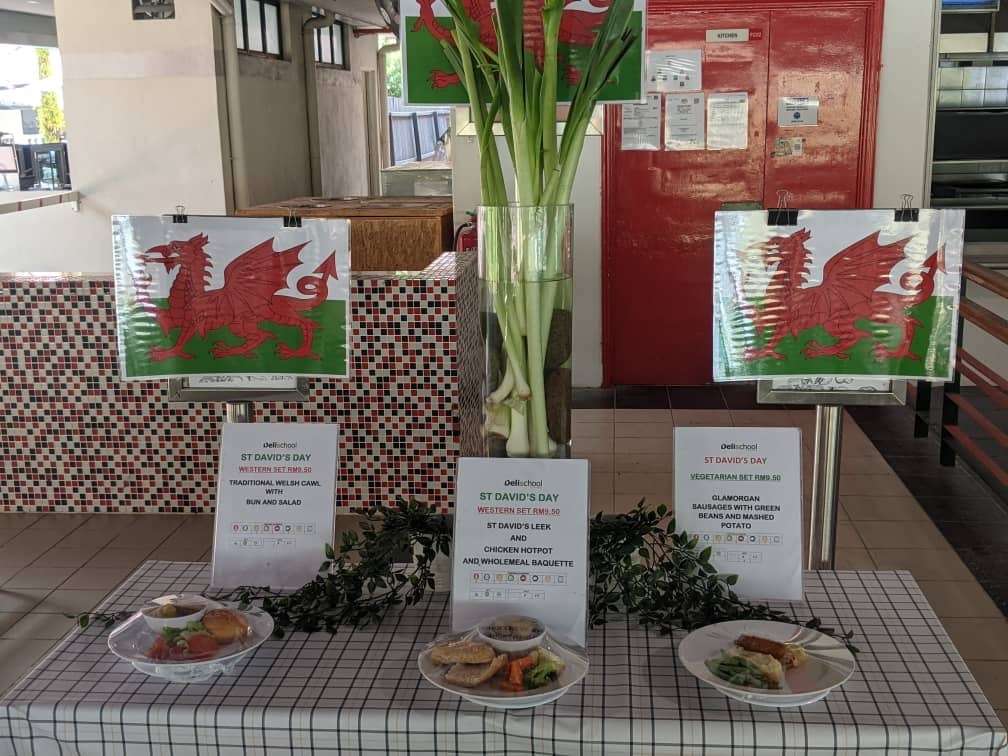 We hope you enjoyed it!