In today's blog our fantastic Computer Science (CS) prefects reflect on the events and competitions they took part in during Term 1. From running their own competitions to winning international ones it was a very busy and successful Term 1 for our Computer Scientists!
"Last term, students were presented with several opportunities to develop and enrich their knowledge of computer science, ranging from catch up lessons to competitions. The events not only allowed students to explore their interests in the extensive range of computer sciences, but also encouraged them to work together and share their knowledge with their peers.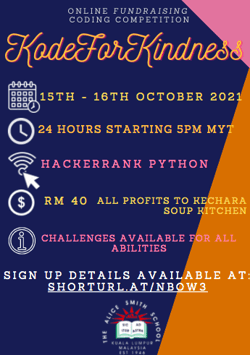 The first of many events that occurred was the Kode for Kindness coding competition which was a fundraising event held by Annushka and Andrea to support Kechara Soup Kitchen in aiding the urban poor who had been negatively affected by the pandemic. It was held on the 15th of October and had students from both Alice Smith School and Garden International School entering, where the participants had to solve a range of complex coding challenges within a 24 hour time period. The fundraising event was able to raise a total of RM440, which was used to support Kechara Soup Kitchen. This fantastic event held by the senior prefects will be used as guidance as to what us current prefects will have to work towards and try to improve.
Following the Kode for Kindness competition, there was also the Malaysian Computing Challenge (MCC), which was held from 30th to 31st October, organised by the Malaysian Informatics and Programming Society (MIPS). It is an annual online event that allows participation from primary, secondary and pre-university students to support their computer science education by training their computational thinking abilities. During the two day competition, participants were expected to solve as many problems as possible from the six unique challenges that were given, and to come up with the most efficient algorithm to score more points from tasks with greater difficulties.
Later in the term, the Tokyo International Coding Competition took place from 13th to 20th November. It is organised by the World Coding Club to create a community of young coders and entrepreneurs by guiding them through their journey to find their passion for technology through hackathons, and was therefore opened to all secondary school students. Students gathered in teams and built projects together following the global goals set by the UN to make the world a better place. It was especially exciting as students could build anything they want using their programming and problem solving skills.
For the final competition to wrap up the year, Advent of Code is a yearly event that is incredibly accessible to almost everyone and encourages both veterans and newcomers alike to computer science to test out their problem solving skills. It was held throughout the month of December and sets a new programming challenge everyday for the whole month. The event not only challenged us with the problem solving challenges but got us excited for the holidays with its fun holiday themed questions. Participants complete the challenges to earn stars and compete on the leaderboard, the person with the most stars will then get wonderful prizes. In the KLASS leaderboard a special mention to Cuan (Y11) who came first, in second place was Huan Sha (Y10) and Kai Xuan (Y9). The other exceptional participants were Eugene, Jeremy, Bridget, Derrick, Jack, Yi Xin, Anya, Priasha, Cassie, Daniel, Kok Jin, Kai Xin, Shi Wen, Kieran, Afrah, GhaYuan, Kishen, Ashley, Annushka, Sebastian and Frederik.
Finally there was a pizza party for digital stars that was held on the 9th December and was held to celebrate the outstanding achievements of everyone who participated in any computer science competitions or displayed great skill in computer science in general whether it'd be through wider learning or having an ability that would set them apart from everyone else. The party was a great success and everyone had a great time eating pizza and drinking fizzy drinks. What a wonderful way to end the year!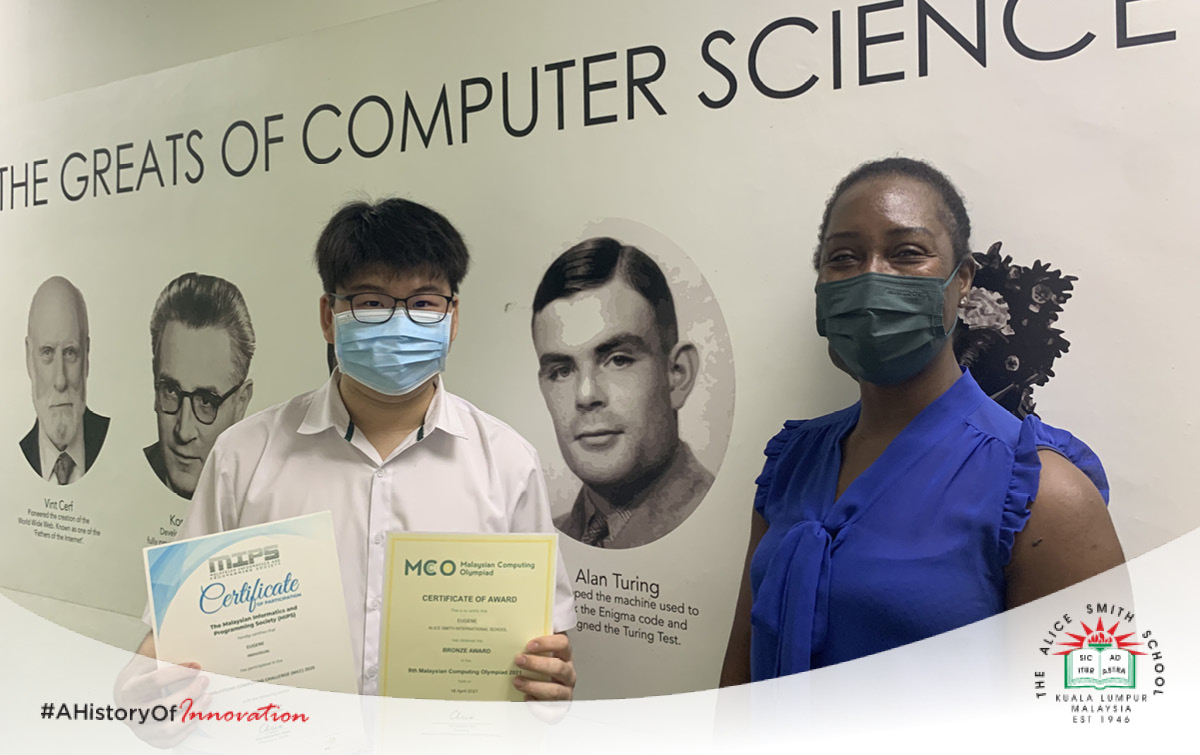 Before we end the roundup of Computer Science events that took place we would like to shed light on and appreciate one of the most outstanding computer science students is Eugene Hwang who is a Year 11 Computer Science prodigy who we would like to formally recognise for his remarkable problem solving and programming skills in the community. He has participated in the Malaysian Coding Challenge (MCC) and won the gold award, and as a result qualified for the Malaysian Computing Olympiad (MCO 2021). He has also taken part in the 2021 World Computing Championship, competing against hundreds of talented coders and achieved Gold. Furthermore in the May 2021 award ceremony, he achieved a gold medal in Digital Technologies at the UNSW International Competitions and Assessments for Schools (ICAS). Thus concludes all the events that occurred in Term 1 of 2021 for CS. We hope to do better and set a greater example for future prefects next year."
Authors: Yi Xin, Elizabeth, Jack, Toryn (CS Prefects) and Kai Xuan.