The stunning capital of Malaysia, Kuala Lumpur, is well known for its iconic landmarks, rich history and friendly people. It is also an amazing place to raise your family. But if you're new to the city or just haven't had the time to go exploring, we have a selection of excellent places to go and activities to do with children.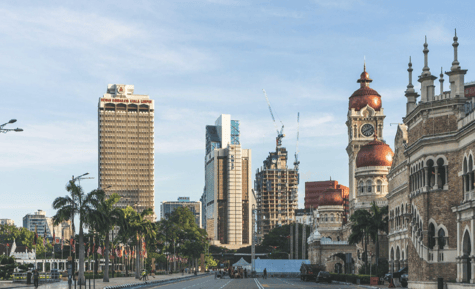 Some are adventurous, some are educational and others are simply a lot of fun. So, let's not delay any longer and tell you our recommendations for cool things to do with kids in Kuala Lumpur.
Petrosains Discovery Centre
If your kids are into science, this is definitely the place to visit. In fact, even if you're not a science fanatic, you'll still love the Petrosains Discovery Centre. It offers a plethora of outreach activities, exhibitions, workshops and experiences that makes learning STEM (science, technology, engineering and mathematics) interesting and fun.
Situated within the city's famous Petronas Twin Towers, its interactive and experiential way of discovering the wonders of science offers a full day of adventure.
KidZania, Kuala Lumpur
This fascinating mini-city is a must-visit for families with younger children and gives them a unique opportunity to become firefighters, doctors, chefs or artists, and perform real-life tasks. KidZania has more than 60 job simulations for kids from the age of 4 to 14 to try, from pilots and drivers, firefighters and police officers to chefs, magicians, surgeons, florists, builders, dentists, electricians, painters, DJs, vets and more.
Located about 20 minutes outside the city centre in Mutiara Damansara, KidZania is a unique way for kids to have fun finding out first-hand about lots of different jobs and develop valuable skills such as financial literacy.
Aquaria KLCC
In the heart of the city below the Kuala Lumpur Convention Centre is a magnificent aquatic sight to see that everyone will enjoy and love. Aquaria is a state-of-the-art aquarium that is home to around 5,000 ocean-going and land-bound species. From the Evolution Zone through to the Ocean Zone, the longest underwater tunnel in Malaysia, marvel at the Green Sea Turtles, discover Sand Tiger Sharks, watch the Giant Groupers, and so much more.
Sunway Lagoon Theme Park
For all-day fun for the family with loads of different activities to do, a trip to Sunway Lagoon Theme Park is a must. Sitting about 25 miles outside the city centre, this family-oriented amusement park has 90 attractions – something for everyone – to explore across its 88 acres.
Enjoy water slides in the Water Park, discover the magic of a multitude of animals in the Wildlife Park, hold your nerve in Scream Park, test your driving skills in X Park or get lost in the Sunway Lost Lagoon. They also host a variety of excellent themed events so, look out for those, too.
Farm in the City
Escape the hustle and bustle of the city at this unique countryside farm, situated half an hour outside the city centre. Farm in the City is the perfect place for kids to meet, pet and feed a wide variety of different animals, including birds in the free-flight bird aviary and crocodiles in the reptiles' cavern. There is also a clear-water lake, longkang fishing, a pet village, a jungle walk, a Malaysian vegetable farm and an orchard, perfect for relaxing.
KL Bird Park
Only 10 minutes from the city centre is the Kuala Lumpur Bird Park where you can escape the city and be immersed in the world of everything to do with birds, flight and non-flight. With a tropical forest theme, the four park zones give you a unique opportunity to get up close and personal with 3,000 birds of around 200 different species, both local and foreign.
They also run a variety of daily activities, including feeding a range of birds like the ostriches, eagles and Milky Storks, and don't miss the spectacular Bird Show in the Amphitheatre. It really is a plethora of magnificent colour and flight displays that everyone will enjoy.
Skytrex Adventure
A bit further out from the city than our other recommendations but definitely well worth the trip is an adrenaline-filled outdoor adventure park. Skytrex Adventure is an aerial course of outdoor activities that will test the skills, and nerve, of you and your family.
You will be combining swinging, flying, dangling and climbing activities as you make your way around the course, all in a rainforest setting. Don't forget to put sunscreen, bug spray and plenty of water in your backpack!
Berjaya Times Square Theme Park
Last, but certainly not least, is the largest indoor theme park in the region of Kuala Lumpur, perfect if you want to escape the outdoor heat. Just 8 minutes from the city centre, Berjaya Times Square Theme Park has lots of thrilling rides and activities to have a go at for all the family. The magical Fantasy Garden is the perfect setting for younger kids, while older kids (and adults!) can have fun with a variety of Virtual Reality games.
The Spinning Orbit gives you an idea of how the planet feels spinning around the sun and discovering space at the Galaxy Station. The Haunted House will test your nerves or enjoy the thrills of a car chase in Robo Crash. For a truly unique experience, head over to the world's first waterless aquarium which uses the latest technological innovations and holographic projections in a river and marine backdrop.
Through international schools in Malaysia, like The Alice Smith School, there are excellent educational programmes, English curriculums and an abundance of extra-curricular activities that are tailored to students, no matter their nationality. They are important to any expat community in Malaysia, providing that vital bridge to help children and families to adapt and settle into a new environment.
But equally important is downtime with the family enjoying the many wonders, attractions and family entertainment in and around Kuala Lumpur.