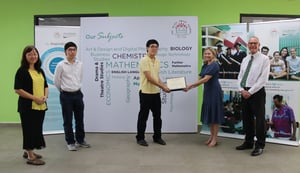 The dream of a Malaysian student to pursue Chemical Engineering tertiary studies in the elite Pembroke College, University of Cambridge is now possible! Zhi Yan Lee, a current Alice Smith scholar in Year 13 is the first proud recipient of the Alice Smith School Foundation Tertiary Study Grant.
Launched in November 2018, the Alice Smith School Foundation was established to support the philanthropic work of the school and further enhance its commitment to education in Malaysia. The generosity of Foundation donors have helped enhance the educational experience the school offers to students and support them on their journey to achieving personal excellence.
"It was our great hope that our Foundation would be able to help fund the university fees for our scholars going on to be offered places at prestigious universities. We are delighted to be in this position in under two years. Zhi Yan is such a well deserving candidate to be the first recipient of the grant. We hope there are many more to follow him. This will only be possible because of the generosity of donors who contribute to the Foundation. Thank you to our donors for making this happen!" shared Tun Zaki, Chair of the Foundation and Marama Schnitker, Chair of the Council of Governors.
Feeling thrilled and surprised, Zhi Yan said,
My next important journey in life wouldn't have been possible if it wasn't for the generous donations that have helped me to pursue my dreams. I'm truly humbled to be the first recipient of the Alice Smith School Foundation Tertiary Study Grant! I'm really grateful for the giving.
Making a gift that impacts positively on the dreams and aspirations of others is one of life's most pleasurable experiences. Giving will make a difference… an enduring sense of belonging to something very special. Zhi Yan, together with his brother Zhi Wei Lee who has just completed his second year of studying Mathematics at the renowned University of Oxford, have created history in the Alice Smith School as two siblings receiving sixth form scholarships and then going on to be admitted into Oxbridge.