The Alice Smith School is often regarded as one of the best (if not the best!) International schools in Malaysia and indeed Asia. But what makes it so special? Excellent (I)GCSE and A Level grades are an indicator of one aspect of a school's quality, but what about all those activities, initiatives and achievements that do not end with a formal assessment? Think of all the amazing sports, music, drama, student-led conferences, community projects and other brilliant events our students are involved in all of the time. We want to recognise and celebrate everything that our amazing students do at school and so we are rolling out a comprehensive 'Colours' award scheme.
I am very excited to see people being recognised and celebrated by the new Colours Awards for their commitment and enthusiasm in activities which are not purely academic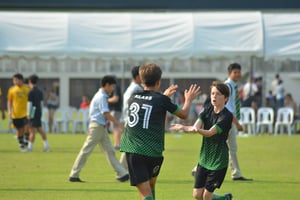 Our Colours system will seek to recognise and celebrate that which our students commit to over a sustained period of time, at the highest standard, and to the benefit of our school community and beyond. The Colours Awards will be rolled out across the performing arts, Model United Nations, service learning and student leadership, alongside the pre-existing Sporting Colours. Full Colours are awarded in Years 11 - 13 for three years of outstanding contribution. Half Colours can be awarded in Years 10 - 13 for two years of outstanding contribution. Ribbons are awarded in Year 8 - 9 for two years of outstanding contribution.
These extracurricular enrichment activities will often be the thing that students remember most fondly when they have left the school and are reflecting on their student experience. Creating a memorable and diverse student experience is perhaps the most important thing in elevating a school to genuinely elite status. A good school will get you through your exams and send you off to a good university, but truly great schools will also bequeath students with lifelong memories, friendships and a genuine sense that they have been part of a special community.
So what makes our community so special?
Everybody at the school has a genuine commitment to the school's key values of:
Connectedness
Kindness
Respect
Integrity
Resilience.
These attributes are clearly visible in the classroom but they are often most actively put into practice in the work the students do outside of class.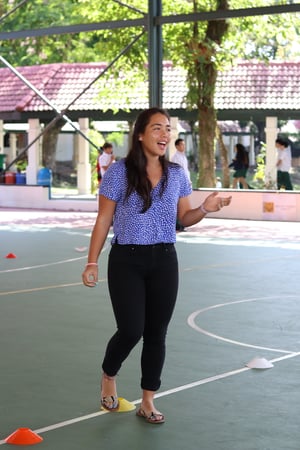 Kylie Compton is a current Full Colours holder in Year 13. She explains the value of the Colours system to her as an EP sportswoman "In 2017 when I first received my Half Colour Award for swimming, football and touch rugby, I was so excited to finally stand up and receive the award - especially because I have always watched other brilliant sportsmen and women, who I looked up to go up, get their awards - hoping that one day, that would be me. It felt so amazing to be recognised for all of the commitment (weekend tournaments as well as training before and after school) and made all the sunburns, sweat and scabs seem so worth it. At that moment, I remembered not only the highs but also the lows and failures that made the journey and award cherishable."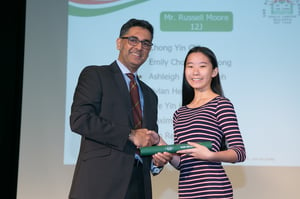 Emily Chong is a Year 12 student currently working towards achieving Colours in service learning. On being involved in the school's ECA working with UNHCR students, Emily says "I have taken a natural leadership role amongst my team. Throughout this ECA, not only have I contributed to the wider community, but I have also developed my communication, planning and interpersonal skills which will definitely be useful in both future studies and careers." On the idea of being awarded Colours in recognition of this service to our community, she says "I am very excited to see people being recognised and celebrated by the new Colours Awards for their commitment and enthusiasm in activities which are not purely academic. It will shine a new light on those who have been actively involved in extracurriculars and community activities within the school."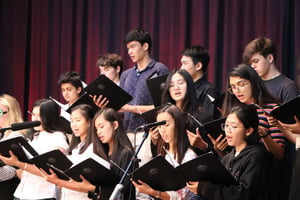 A future performing arts Colours Award recipient is Falk Meier, who joined in Year 2 and clearly remembers performing in his first Christmas Concert. "I was young, immature, and played the recorder and sung. As every year passed, the many opportunities that the school gives musicians to thrive helped me keep up my passion for music". Falk is a talented musician and cornerstone of the Music Department at EP, as an A Level Music student, concert performer and currently musical director of the forthcoming student-led production of Les Miserables. He recognises the impact his involvement in music has had on his experiences as an Alice Smith student: "Long term commitment to the arts requires just as much work as sports, and the skills, confidence and friendships I gained along the way have played a huge part in shaping who I am, and who I will be in the future- a future that will undoubtedly involve more orchestras and musicals."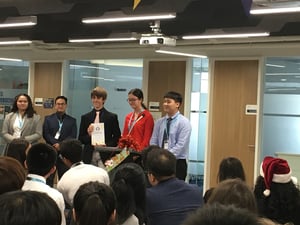 Danielle Salt, Year 13, shares her journey towards Full Colours in MUN: "Model United Nations has been a key part of my time at Alice Smith. I joined MUN in Year Eight and attended my first conference in the same year; over the past four years, I've also held the position of Secretary-General. In that time, MUN has completely evolved: we recently hosted our third annual conference, which would have been almost unimaginable when I first joined. I'm glad that I've been able to be a part of that evolution, because it's given me opportunities and challenges that I wouldn't otherwise have had — initially, learning to overcome my lack of confidence in public speaking; later, becoming a leader and travelling abroad to debate at international conferences. The ability to debate and to critically analyse information has completely changed my perspective on the world, as well as strengthening the skills that have helped me be successful in the Humanities. There's no doubt that MUN requires dedication and self-awareness, and often pushes people beyond their comfort zone; for that reason, I think it's essential that MUN, amongst other areas, is recognised as much as achievements in sports and academics."
Recipients of Colours Awards will be recognised at a new event in the school calendar, the Colours Awards Evening. This special event will invite parents, students, teachers and coaches to come together in celebration of our students' outstanding contribution to school life at EP.
Update June 2020: With the Covid-19 pandemic we were unable to award our first Colours Awards this year and while we are looking forward to making our inaugral awards next year we did want to celebrate those Year 13 students who had made outstanding contributions but are graduating this year with 'Honorary Colours'. You can see all the recipients on our twitter feed.