STEM Week 2023 took place earlier this month and was led by the Science and Design Technology prefect team in collaboration with the Maths, Computer Science and House prefects, as well as the KLASSMeds team. In a truly collaborative endeavour, our student leaders created a range of STEM-tastic opportunities for our EP community. Our Science and DT Senior Prefects, Gha Yuan Ng and Hayley Wong, have written this week's Secondary Blog to tell us more…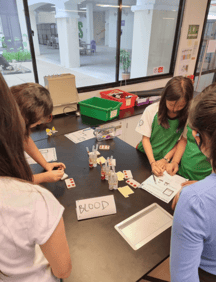 KLASS's STEM Week is an annual week-long celebration of Science, Technology, Engineering, and Mathematics. STEM Week is held to promote awareness and interest in STEM among students and the wider school community. The event aims to showcase the practical applications of STEM subjects in everyday life, and to encourage students to consider careers in these fields. STEM Week brings together students, teachers and members of staff through exploring and celebrating the wonders of STEM.
Over the course of the week, a range of exciting activities, including quizzes, hands-on experiments and demonstrations, was held, to promote interest and engagement in Physics, Biology, Chemistry, Design and Technology, Mathematics and Computer Science. There was something for everyone during STEM Week, regardless of whether you consider yourself a seasoned STEM professional or you have just begun exploring STEM.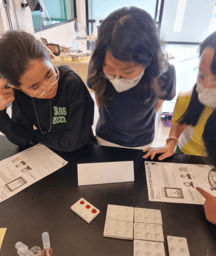 On Monday, biologists had the opportunity to create unique DNA sequence bracelets and fuse knowledge with practice to solve murder mysteries using fingerprints and blood analysis.
Future design technologists competed for edible prizes during break time on Tuesday to craft paper aeroplanes with the longest flight time and distance covered. On Wednesday, students put their Physics knowledge to the test by crafting the fastest car using paper, cardboard and more. All this hard work called for a cookie celebration! During lunch, all students were welcome to decorate cookies to look like planets, asteroids, or even blackholes.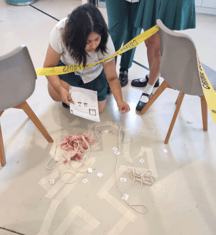 Ooey gooey slime is always fun! On Thursday, students explored the science behind slime, and got the opportunity to make their own. There was also a volcano explosion using elephant toothpaste, with an opportunity for students to create their own explosion and judged by its intensity. As if this wasn't exciting enough, Mr Parslow and Mr Corbetta shot each other with ethanol guns! This interactive event allowed students to bet on who would get hit first. Please note, no teachers were harmed during the course of this experiment.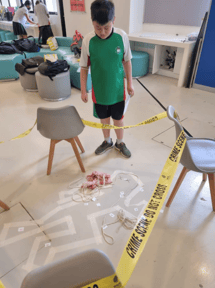 In Maths, students competed in a card game of 24 during break time. Futuristic VR headsets are promising in the field of Computer Science, and were available for students to experience during lunch time. There was also a drone session on the front field, further fuelling the fantastic Maths and Computer Science day.
As arguably the largest event of the year for STEM, organising this project was quite the achievement. On behalf of the Science and DT prefect team, Mr Collinson, the Head of Faculty, and the senior prefects, Hayley and Gha Yuan would like to thank the other prefect teams, the teaching staff, the science technicians, and the maintenance team for their contribution in making this STEM week extra special.
Wishing you a wonderful weekend!
Maria Osowiecki
Secondary Principal