Update May 12th: The 'Les Misérables in Concert' team have been working hard to beat the challenge of the MCO and we're pleased to be able to bring you the first of several 'Virtual' performances the team have recorded. Enjoy 'At the End of the Day' here.
"For this week's blog post we had spoken to students Falk and Shuewen about what was to be our forthcoming student-led performance of 'Les Misérables in Concert'. Sadly, in light of the Covid-19 situation, we have had to postpone this performance. However, we are exploring ways of capturing our brilliant musicians' talent and hard work in an alternative way or at a later date. Watch this space for further information. We did still want to share with you Falk and Shuewen's journey from initial idea to making this concert a reality - which we hope you will be able to see in the near future... "
Holly Sullivan, Head of Creative and Expressive Arts Faculty.
'
Les Misérables

in Concert'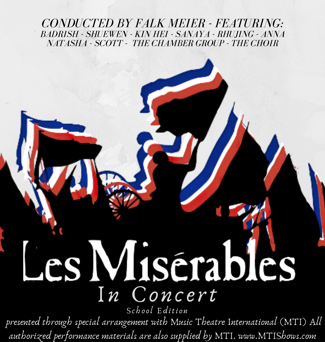 This is a completely student-led production from start to finish with our talented students having done everything from holding auditions to running the rehearsals and everything else in between. Here Falk and Shuewen talk to us about their passion for music and what inspired them to want to stage the production.
What inspired you to want to stage Les Mis?
Falk: Near the beginning of 2019, Mr. Payne, Badrish and I had the idea to have the orchestra accompany him in singing a few songs from Les Misérables. We also started throwing around the idea that we could include more characters and give other singers opportunities to sing solos, but the planning for it really began in meetings with the CE Arts prefects, particularly on the Prefect Retreat, who all expressed interest in making this concert happen. Most of us really enjoyed last year's experience with Little Shop Of Horrors, and so I wanted to create an opportunity for us to express our love for musicals, and for Les Misérables. Since it is my last year here, I wanted to organise something unique and memorable, both for myself and for the people involved.
It is a celebration of our love of music and our respect for our individual skills and differences
What should an audience expect?
Shuewen: The audience should expect passion, talent and enthusiasm. This concert is more than just a group of talented musicians performing together; it is a celebration of our love of music and our respect for our individual skills and differences- something that I hope will come across clearly and powerfully during the performance. We have put a lot of time and effort into this performance, and an audience should expect to see the fact that we love, and are proud of the show that we are putting on.
Tell me about your love of music. How has it affected you?
Falk: For me, music has been part of my life since a very young age. I was formally trained mainly in classical music, and I love to play in orchestras as well as give solo performances. It is a source of comfort for me but also a place where I can express myself. The first time I remember being introduced to musicals in particular was in the Year 6 production of Seussical the Musical. I played the flute, but I also really enjoyed the organising aspect of the music. I got to express my passion for musicals further in Bugsy Malone and Little Shop of Horrors, where I was a pianist for both but also took any time I could to spend time refining songs with singers and thinking about the coordination between the stage and the sound. I enjoy many aspects of music, but playing in musicals and in orchestras has been the most rewarding so far to me.
I wanted to create an opportunity for us to express our love for musicals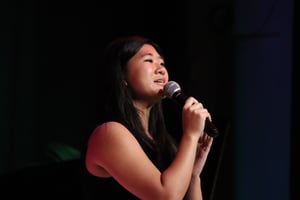 Shuewen: Music has always played an important role in my life - as a comfort during times of stress, as something that enhances my life in so many ways. In performing individually, I have learnt resilience, creativity and authenticity; in performing as an ensemble, I have learnt empathy, flexibility, and how to work as a team: key attributes of my character that I take with me into everything I do, most recently as Head Student. I've been involved in the Alice Smith School's music scene since my very first music lesson 8 years ago, and it seems only fitting that I should end this journey by helping to lead the performance of one of my favourite musical scores.
How has it been leading on this student-led production? What have been the challenges and what has been most satisfying?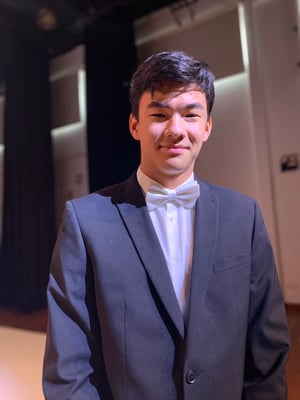 Falk: From initially planning this musical, Mr. Payne had mentioned a hope that we would see individuals "come out of the woodwork", and it was heartwarming to see people audition who had never expressed both their ability to sing as well as a passion for musicals. Honestly, the hardest thing to do was creating the rehearsal schedule! Who would have thought I'd spend over an hour planning the first four rehearsals... Overall it has been a pleasure for me to lead, especially as I was so well supported by my wonderful team of prefects and Shuewen.
What are your musical plans for the future?
Falk: Another version of me would have applied to a full music education in a conservatory. I will try to improve both my individual performance on the flute and the piano by continuing to challenge myself with diplomas, as well as look for opportunities to play in musicals and orchestras, hopefully taking up a conducting or composing course along the way
Shuewen: All the universities that I've applied to have really active music scenes. I would love to pursue my love of music by being a part of this. I have plans to join a choir, chamber orchestra or orchestra, and maybe even study an extra module in music, too! Regardless, I know that music will always be very important to me, playing a huge role in my life and who I am as a person.
Thank you to Falk, Shuewen and all the other performers have been working hard on this project over the last few months and hopefully we will be able to bring you their performance soon!