Our Learn2Master initiative is a unique programme developed by the team at Alice Smith School to effectively teach modern foreign languages (MFL). Our Head of MFL, Stefan Rodic, describes the programme:
"Learn2Master is based on the Swedish concept of LAGOM (balance). We promote a balanced dialogue between student and teacher that centres on two specifics; the 'Learning Point' (LP: what is being explored as a class), and 'Mastering Point' (MP: identified by each individual student from what has already been explored in class, but not fully understood). In this, we concentrate on learning, balancing progression with sustainability and learning pace. By taking a single piece of work and concentrating on two specifics, our students can focus upon their bespoke learning pathway, strategically removing the feeling of being overwhelmed. In recognising the LP and MP, students attempt goals that are identified, achievable and realistic. The ensuing dialogue removes the concept of traditional teacher feedback, and promotes an online conversation via Seesaw (an online learning platform and app), where learners are encouraged to summarise the commentary given by the teacher in relation to the LP and MP, enabling meaningful reflection."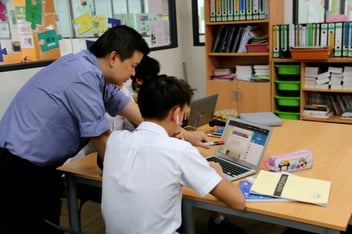 The creativity of the Learn2Master programme lies in how it has taken existing techniques, philosophies and learning technologies and re-purposed them into an approach that has delivered a discernible step change in language learning and attainment. The individual components commonly exist but by bringing them together in a new combination and changing the emphasis to two specific foci, 'The Learning Point' and 'The Mastering Point' we are able to concentrate on learning, balancing progression with sustainability and learning pace. This engages our students as agents in their own learning by developing their reflective and metacognitive processes which are essential not just to language learning but the wider curriculum and indeed life beyond school.
Learn2Master has had a significant impact on student attainment with Value Added (VA) scores increasing at both (I)GCSE and A level.
In 2019 our (I)GCSE French resulted showed our students achieving a mean VA score of 1.2, and in (I)GCSE Spanish 1.3, adding on average more than a full grade to students predicted outcomes. At A level our VA for French was almost a full grade at 0.75 and in Spanish our VA was 2.0, adding 2 full grades to our students' results.
These outcomes show the effect of the Lean2Master programme on attainment but equally important is the change in students' attitudes to language learning. With the Learn2Master approach we have found students more engaged in the classroom and the comments from our students clearly articulate this:
"What I find most enjoyable about our French lessons is the diversity of the activities, and the methods of learning. One day, we could be doing a written quiz to test our knowledge, then the next day be learning an iconic French song." Jordan.
"My lessons are always engaging and encourage me to push myself in the aspects of the course that I am least confident about." Assem.

"Every lesson we learn something new and special. It is great because we are always being pushed to our limits even if it just seems like we are having fun." Adam
November 2019 Update: We are delighted to hear that our Learn2Master programme has been shortlisted for an International School Award in the 'Digital Technology in Learning Initiative' category. The overall winner will be announced in January 2020.
Do you want your child to achieve similar results?
Discover how we help them achieve success in our free download.