Our students love playing with water and they like doing things that grown ups do too. So when our Reception Classes washed the windows it was tremendous fun!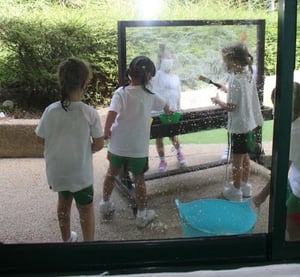 The students enjoyed filling containers to squirt the water, climbing on step stalls to reach the windows and of course adding bubbles makes everything even better!
They experimented with how hard they needed to squeeze the sponges to get the water to come out, they looked at what ratio of soap to water they needed to make bubbles and found out that if you squeeze really hard you get lots more bubbles.
While they are having fun the students are developing lots of skills that will be important in the future for writing, communication and maths such as:
Gross motor control: the chest muscles are developed as the students stretch up and down, and the muscles from the shoulder to the fingertips when doing things like pushing the pumps.
Fine motor control: Squeezing sponges, and unscrewing lids are working on their hand muscles.
Balance: when reaching higher areas or holding objects when standing on a small chair or steps.
Hand-eye coordination: as the students transfer liquid between containers
Maths skills: As they work with capacity, volume and ratios.
Problem-solving: How do they fill up the containers? How do they reach the top of the windows?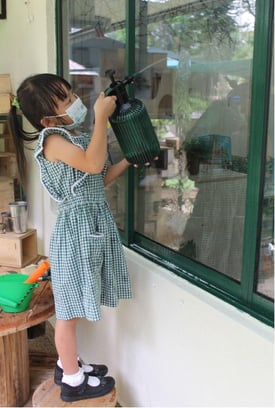 Throughout the activity our experienced team of teachers and teaching assistants encourage the students to talk about what is happening, expanding the students vocabularies and helping the students to think about what they are going to say and then speak it out loud.
You can easily do this activity at home
Our students washed windows but at home you could just as easily wash toys, bikes or even the floor.
It's easy to do - put some water into a bucket and some soap on the floor and use a scrubbing brush or a small broom. Let the children experiment with what happens if you brush harder … It's so exciting to see the bubbles get bigger the harder they brush. Talk about what you see and most of all have fun playing with your child!
A wonderfully fun, exciting (and useful) activity to do with your child!
And here's Alice and Smith enjoying washing the windows too!
Alice & Smith will be trying out more of the activities over the coming weeks so make sure you follow our Early Years Instagram Feed @KLASS_EarlyYears and subscribe to our YouTube channel to follow their adventures!
Do you want to know more?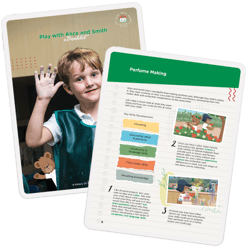 Click here to download our FREE eBook for:
Activities for you and your child to do
Ideas for play at home using simple everyday items
Insights from our experts on how the activities are preparing your child for future success
Information about how our play based approach at Alice Smith works
About Early Years
Our highly skilled and knowledgeable staff provide a challenging, rigorous and engaging curriculum to inspire our youngest students in Early Years. This is supported by teaching which is heavily influenced by a number of recognised approaches as to how children best learn at this age including Reggio Emilia, Anna Ephgrave, Maria Montessori and Alistair Bryce-Clegg.
Environments are carefully planned and created in order to provoke learning, interest, creativity and thought.
Each child is viewed as infinitely capable and intelligent. Our teachers provide support and challenge as our children learn through play. This creates a highly personalised and tailored environment, which is appropriately challenging for each individual child. Our aim is to ensure high levels of emotional wellbeing and involvement. This is characterised by children who are confident, comfortable, curious and eager to experiment and explore. The role of the environment as well as the teacher are continually assessed to ensure we offer a deep and challenging learning experience for all.