Join us for a special night, as we celebrate the Foundation Charity Dinner's 10th year anniversary and experience an evening of 'high KLASS' food and entertainment, organised and run entirely by our secondary students, staff and parents at the fabulous Grand Hyatt Hotel, Kuala Lumpur on 28th February 2020. The evening includes a wide range of outstanding song and dance performances by students in Years 9 to 13 and dinner is served by our Sixth Form students who are trained to wait on tables providing you with an unforgettable experience.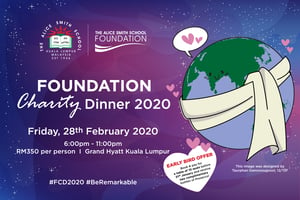 Each year the Charity Dinner aims to raise awareness of, and money for, our community service projects, both locally and internationally. Last year, thanks to the generosity of donors we raised over RM83,000 to assist with the renovation of schools that our students visit, rural community development, resource acquisition for those in need, and a range of wildlife and environmental conservation projects. More information can be found here.
Funds raised were used to support the following community and environmental work:
The waste management project in Tioman
Building beehives to increase biodiversity in the Kiulu reforestation project in Borneo
Supporting the safe water gardens in Sumatra
Refurbishing and decorating the Kao Thong School in Krabi
Building a dormitory for Muan Ngam School in Chiang Mai.
This year, we have set a fundraising goal of RM100,000 and we need your help to reach this aspirational target!
How can you help?
Book your tickets and get fully involved in the activities on the night, such as the live auction, activities and raffle.To purchase your tickets, please complete this form.
If you can't make the date you can still get involved with our silent auction in the days leading up to the event. Explore our Foundation Charity Dinner website for further information
We also have opportunities for guests to further support the community and The Alice Smith School Foundation's sustainability projects by becoming one of our #BeRemarkable Philanthropic Partners. Please click here for further information
Giving will make a difference in the community work we undertake to help others. The Foundation needs the support of everyone to make this fundraising drive a success. #BeRemarkable. Support this noble cause. Every gift is important and will make a difference to our community.
The Charity Dinner is a highlight in our school calendar, made special by our students serving a three-course dinner and bringing you entertaining performances, from upbeat band covers to classical music.
We look forward to seeing you there!