The conversation continues with Dr. Shanton Chang, Professor of Information Behaviour and Information Systems at the School of Computing and Information Systems, and Associate Dean at the Faculty of Engineering and Information Technology, from the University of Melbourne. Dr. Shanton has extensive experience in international education having been involved in recruitment, teaching and learning across cultures, career mentoring as well as international education strategy and policy.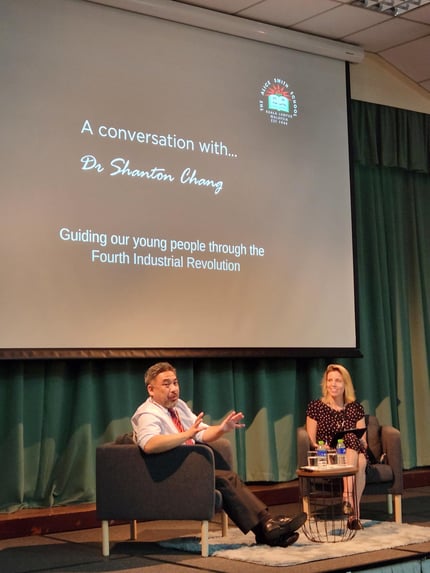 What are the key skills that our children need to develop in order to navigate the complexities of the ever changing industrial revolution?
Dr. Shanton recommends openness, agility and adaptability, initiative, communication, negotiation, creativity and resilience. These are all skills that employers are highlighting that are missing in fresh graduates. They only know how to study hard and work within frameworks. Dr. Shanton says at the university they have to train them not to think in terms of assignments and exams. When they go into a job they are not given work in frameworks similar to assignments and exams. At work, it's all about continual adaptability, team work, collaboration and resilience.
At international schools in particular, students have a strong support system and are not used to failure. So when they fail for the first time at university, it feels like the end of the world for them. This is such a common occurrence in university life especially for those studying overseas because their security blankets are not there anymore. We have to teach them early that failure is a normal part of life; it's how you stand up again and what you do about it that is most important. They need to learn how to cope by themselves because this is one of the most crucial fundamental skills to have when they go into the workplace.
What would careers be like for the generation of children at Alice Smith now, and how can they stay relevant to future employers?
As parents, we like to think that our children will get a job and be secured in that job for a long time. But that doesn't exist anymore, it's too 20th century to think that way. Research tells us that young people may have up to seven different careers in their lifetime. Multinational companies tell us that if graduates stay employed with them for up to three years, they consider that a big achievement. How then are young people able to cultivate that agility to go through these changes in their career path?
Dr. Shanton explains that the principle here is simple; that companies can take away their jobs easily, but they can never take away their skills. He gave an example of a journalist, who has good critical thinking skills, a good communicator and researcher, and who loses his job as a journalist one day. He can then take his other skills to a company like Google instead. He does not necessarily need to work as a journalist only. Many companies will be looking for someone with his skillset. That's the agility of careers in the 21st century. Companies don't hire the same type of people in an organisation anymore.
Again Dr. Shanton favours soft skills by advising that when choosing a degree, choose what you're good at in terms of soft skills strengths rather than interest alone. When students struggle in university, they spend all their time studying and have no time to develop other soft skills needed for future employment. Being able to study is not a skill. Their employability rate will be better if they have built up their CV in school and university. There is no point of having a GPA of 90 with no CV. A student with a GPA of 75, but was the president of the chocolate appreciation club and the Malaysian society club, and has organised events and communicated with many people, has a higher chance of getting employed and staying employed.
On the other hand, as a young person, the wrong question to ask is which skills have the most demand and pay the most. If the answer is IT and they're bad at maths, then they will struggle through their degree and will not do well in the end. They are better off choosing communications for example and then they have a better chance of getting employed in many different fields.
Dr. Shanton concluded by reiterating that in primary school they should be exposed to all skills. They need to explore and discover at that stage. And then when they are in secondary school, they will start developing their character and their soft skills. At this stage they should have an idea of what they're really good at and this is when they can start to identify qualities in them that will shape their future career path.
Coming up next: 'A Conversation with H.E. Dr. Justin Lee', Australian High Commissioner to Malaysia and Senior Career Officer with the Department of Foreign Affairs and Trade. Dr. Lee was also most recently First Assistant Secretary in the Multilateral Policy Division. Join the conversation happening on Wednesday 29th March 2023 at our Primary Campus.