The Science Faculty introduced our Year 11 and 13 students to the Science Extension Projects in May. These were designed as a result of the cancellation of (I)GCSE and A Level examinations and provided an opportunity for students to delve into aspects of science that fascinated, nurtured, extended and inspired their learning. Students were briefed with the outline of the projects where they had an option to work independently or collaboratively, they could produce a blog, website, scientific journal, scientific paper, magazine or TED style talk.
As with everything that we present our Alice Smith students with, they launched straight into the projects with vigour. Demonstrating complete independence, resilience and motivation, our students produced outstanding projects that make the Science Faculty beam with pride. Every project submitted was professional and an absolute delight to read or watch and we are pleased to be able to share the winning projects with you.
Our winners for Year 13 were:
First place: Jun Sean Chuah & Zhi Yan Lee: The Titanic Historical Society of KLASS. You can watch the trailer for their project below and find the full documentary here.
Second place: Ee Li Lam who produced a hugley detailed poster on Nanotechnology in Healthcare. Here's a snippet below and you can read the rest here.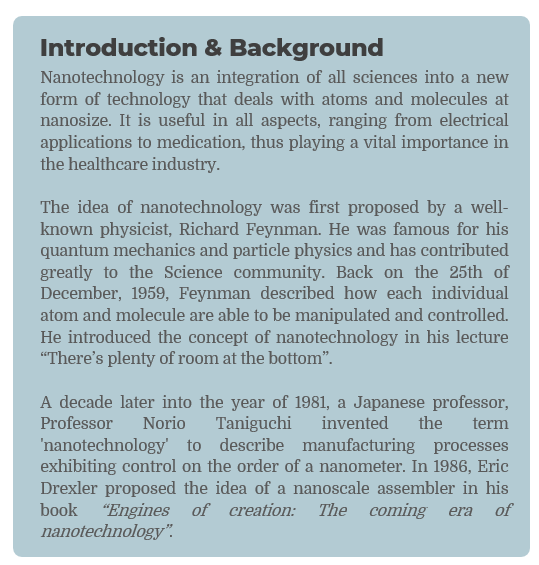 Third place: Pui Shi Chong & Anastasia Junelle: Their website Keep an Ion on Me is full of wonderful science including the 'Chemistry behind Slime' and 'How to make Bath Bombs' amongst them!
Our winners for Year 11 were:
First place: Nicole Sutton, Li-Anne Soo, Anwen Tay and Janelle Leong: The Green Dream. The Green Dream is a blog site run by a team of students who all share the same passion and interest in learning about issues concerning the environment, as well as combating the climate crisis we are currently facing. you can view it here.
Second place: Sebastian Ng, Marcus Lai and Brandon Low: Produced a hugley detailed article on Covid-19 Epidemic in Malaysia.
Third place: Felicia Low, Jihee Kim, Jihye Kim and Youyou Ho: Tackled the crisis in a slightly different format using a magazine style approach which you can read here Science News: Covid-19
Congratulations to everyone who took part!
The Science Extension Project was one option in the enrichment and extension programmes that were offered to our Year 11 and 13's following the cancellation of their public examinations. You can read more about the programmes in our earlier blog post here.