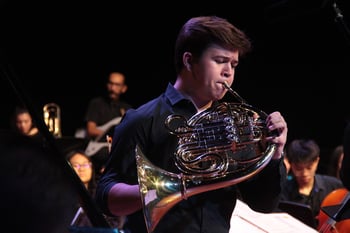 We talked to Max Howling (Year 13), one of our exceptional musicians, about achieving Grade 8 Merit in 18 months, his aspirations for future study in the UK and how he found his passion for music.
What was your first experience as a musician?
"I think that I played Für Elise in assembly when I was in primary school in Hong Kong after my Mum tried oh so enthusiastically to get me into music as she plays piano and cello herself. It was never really for me, though I am building some more interest about keyboard instruments now. In primary school I also learnt to play Chinese drums and recorder like everyone else. It wasn't until coming to Alice Smith that I found the euphonium and later the horn with which I really discovered my passion for music."
What are your proudest achievements as a musician?
"I don't really look back on my achievements in what I do or what I've done. I usually focus myself on what I need to work on to become that much better as a musician and to be able to realise what I want in my playing. I think that constant cycle of improvement is what lead me to improve at such a fast rate, achieving a merit at Grade 8 after playing for only a year and a half. However, I think my proudest moment was when I found out that I had been awarded a scholarship to RCS (Royal Conservatoire of Scotland), as well as another to the RNCM (Royal Northern College of Music). It made me realise that all of the work that I had done in the prior months had paid off, and helped me erase any doubt I had that said I wouldn't be successful going in to such a competitive field."
My proudest moment was when I found out that I had been awarded a scholarship to RCS (Royal Conservatoire of Scotland)
What challenges have you overcome?
The horn is a very unforgiving instrument. It is incredibly sensitive and prone to wrong notes due to the fact that it was originally designed with massive compromises to just be able to play more than a restrictive harmonic series. Not only this but you have to deal with a range of roughly four octaves, inherently unstable intonation, and a mouthpiece with an internal diameter smaller than a 10 sen coin! This in itself is enough of a challenge for anyone, but I always push myself to be as close to perfection as I can play for anything I perform, so I end up tiring myself out by practicing too much and then "crashing" a bit until my lips recover. This was really tested last month when I played principal horn in a production of the musical "Chess." It's a very challenging piece, including horn writing that strays well outside of normal range for the instrument and lasting roughly two and a half hours, it was a real struggle to play reliably every time. I had rehearsals for 6 hours a day ending at 10pm everyday for two weeks beforehand, which was very taxing on all of the musicians. However, I've got to get used to this going into performance professionally!
What excites you about performing / working in an ensemble?
I think that the orchestra is one of mankind's greatest achievements, as ridiculous as that might sound at first. It's the interplay that really excites me, having everyone playing different parts that all have to fall perfectly into place to form the piece. Orchestras in the modern day may be based in a certain place, but they feature musicians from all around the world and from many different walks of life. Not only this, but it unites them towards the singular goal of realising an interpretation of whichever piece of music they are working on. I think it's incredible that music can bring so many people together, and for me the feeling of performing is like absolutely no other. Like they say, music is a universal language – even though you may not understand a word of what is sung, or want to analyse what the composer was thinking at the time, it invariably creates some sort of emotion in the listener. Be it you wanting to turn it off because you hate it, or remembering someone or a fantastic feeling that you forgot about, music really just makes you feel, as a performer or listener, and that's what I love about it.
What upcoming performances do you have?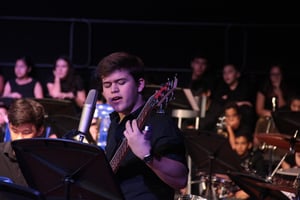 I have a concert where I'll be playing as principal horn with the
Selangor Philharmonic Orchestra (SPO)
centring around Beethoven's Seventh Symphony on the 7th of March, and I also have my A Level recital a few days after that, where I'll be performing Beethoven's sonata for horn and piano. After that I'll be taking some time off my orchestral duties to focus on my A Levels until June, when I will probably be performing a concerto with the SPO as a soloist. I'll also be playing my second instrument, the bass, in the
Alice Smith charity dinner
at the end of the month.
What are your plans for the future?
In September I start at the Royal Conservatoire of Scotland where I'll be studying a BMus in horn performance. I can't wait to be able to play everyday with like minded people and have a huge variety of opportunities that are available in Glasgow for a classical musician. I hope to become an orchestral hornist, playing either first or third in a symphony orchestra somewhere - I hope to come back to Asia at some point because it feels like home to me, having lived here for almost my entire life."
Congratulations Max and we look forward to hearing you play over the coming months before you head to Scotland for your degree studies!