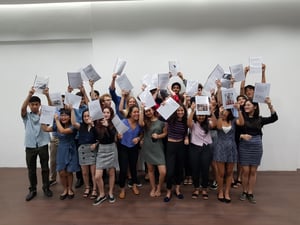 Results day is in August right? Mostly, but not for our Year 13 EPQ (Extended Project Qualification) students who have been patiently waiting for their grades since their presentations last June. It was worth the wait though - an amazing 10 students were awarded an A* and overall 82% of students achieved A*-B. Huge congratulations to all the students on their achievements.
The Extended Project Qualification, or 'EPQ', is a standalone qualification that encourages students to develop vital skills necessary in Higher Education. Taken in Year 12, students choose whatever topic they like as long as it doesn't overlap with their A Level course content and many use the opportunity to explore a personal passion or interest.
10 students were awarded A* and 82% achieved grades A*-B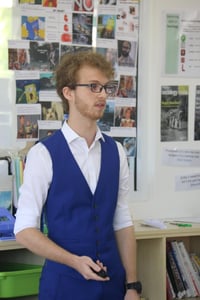 As a research based qualification, the EPQ requires students to develop the skills they will need at university including reviewing literature, conducting research, working independently on a significant project and, of course, using accurate referencing. Our teachers support our students throughout their projects, challenging them to think and explore the topics they have chosen. The support our students receive was also recognised in our external examiner's report which acknowledged that it is 'Clear that the centre (school) is fully aware that the EPQ is a research-based qualification and (that) candidates were advised and supported accordingly.'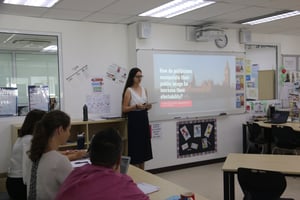 Planning for, and producing, what is essentially a mini-thesis, the EPQ is worth 50% of an A level and the quality of the work our students produce is impressive.
Danielle Salt achieved an A* with a 100% mark for her project titled 'How do politicians manipulate their public image to increase their electability? An analysis of British right-wing personality politics in the new millennium.' Speaking about her project Danielle said it forced her to "take a different approach to research and essay writing that has been invaluable for History coursework and future studies".
Loretta Hellier's A* project considered,
'How far are those who only speak British Sign language limited in opportunities in terms of education and employment in the UK?'
and, while a totally personal project, she remarked that "Looking at relevance and reliability of research, citing and referencing have been incredibly useful in my other subjects and will be at university". Ryan Sutton, also awarded A*, looked at something a little closer to home and produced a superb artifact project titled;
'To what extent can an individual use scrum production (a coding methodology), whilst learning a new coding language, to produce an "Alice Smith student timetabling application"?'
Other topics ranged from exploring CRISPR's potential for cancer treatment, and the factors that influence an elite runner's success, to the future of cryptocurrency and influences on the Malaysian modern art scene. Please use the links to explore our students work.
Our current year 12 students are now well into their projects and we look forward to another set of thought provoking projects and artifacts this summer.