Our #KLASSof2022 have reached their final term at Alice Smith and are making decisions on their university offers. Our students, together with our Higher Education Counselling team, put a huge amount of effort into ensuring each student's applications are of the highest quality, giving them the best chance of receiving an offer from their first choice school (last year 95% of our students attended their first choice institution).
The early indications are that this hard work is paying off with one of our first offers coming in from Yale University for Tyler Lewis. Yale is one of the US's 'Ivy League Schools', ranked no 5 in the US World and News College Rankings and no 14 in the QS University World Ranking.
This year Yale received 50,015 applications, and the acceptance rate was 4.46% - the lowest acceptance rate in Yale's history making it a very tough school to get into!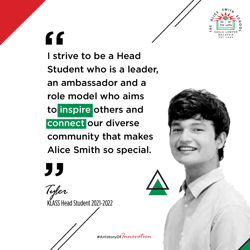 Tyler, one of our Head Students, will be following his brother Bradley #KLASSof2020, who is already studying at Yale and fellow Alumnus Shen-Vey Lai #KLASSof2019. Our group of Alumni attending Ivy League and Oxbridge Institutions has been steadily growing over the past few years and Tyler will be our 11th KLASS student since 2018 to join one of these prestigious schools.
On receiving his offer Tyler said, "Yale is an incredible university that emphasises being able to hone in on your field of interest, whilst also having the opportunity to explore, just like Alice Smith has taught me to do. I can't wait to get started on the next steps of my education at Yale."
Our Head of School, Roger Schultz commented, "This is terrific news to hear. The Lewis family are incredible ambassadors for our school in every way possible - so delighted to see this outcome for the boys."
Several of our other students will be joining Tyler in heading to the US for the next stage of their studies with #KLASSof2022 students having already received offers from:
University of California, Los Angeles (UCLA) (#20)
University of Michigan (#23)
University of Southern California (#27)
University of California, San Diego (#34)
Georgia Institute of Technology (#38)
Boston University (#42)
University of Illinois at Urbana-Champaign (#47)
Purdue University (#49)
University of Arizona (#103)
Middlebury College (#9 in National Liberal Arts Colleges)
School of the Art Institute of Chicago (Specialist Arts School)
California College of the Arts (Specialist Arts School)
(Number in brackets indicates the ranking on the US World and News College Rankings list 2022)
You can read more about the support our Higher Education Counselling team give to our students in our earlier blogs and we'll bring you regular updates as more of our #KLASSof2022 update their offers from their university choices.
Congratulations to Tyler and all our US bound students!