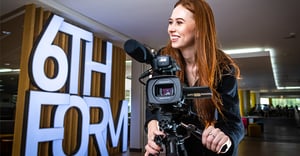 The Extended Project Qualification, or 'EPQ', is an exciting standalone qualification that encourages students to develop vital skills necessary in Higher Education. Taken in year 12 or 13 students choose whatever topic they like as long as it doesn't overlap with their A Level course content and many use the opportunity to explore a personal passion or interest. Students choose their project format; either a 5,000 word report (about 10 typed pages) or produce an 'artefact' with a 1,000 word report. Planning for, and producing, what is essentially a mini-thesis, the EPQ is worth 50% of an A level.
Students negotiate their choice of topic with their project supervisor and with no restrictions on subject matter we see a wide range of projects. Recent Alice Smith artefacts have included:
"The effect of modern technologies on classic car engines" - re-modelling a classic Mini Cooper
"An exploration of mental disorders through modern lyricism and poetry" - a collection of the student's own lyrics and poetry
"Programming an algorithm to decipher the winner of a match based upon mathematical trends embedded within the modern football game"
"Breakfree: an original stage-play" - the writing, directing and staging of a play
Some of our recent EPQ 5,000 word projects have focused upon:
The impact of state education provision in the development of indigenous Malaysian communities.
The ethics of gene therapy in cancer treatment
The impact of film upon people's sensitivity to traumatic news events
To what extent is it true to say that the limits of my language are the limits of my world?
What if quantum mechanics and general relativity coexist to make interstellar travel possible?
The culmination of the project is a presentation to fellow students, staff and guests in which each candidate must explain their journey through the research process. This is not simply a retelling of the project but a thorough evaluation of their learning as a researcher which shows their understanding of the reality of project-based working with regard to time-management, organisation, decision-making and problem-solving. At this point the student should be justly proud of their journey!
Why do the EPQ?
At a time when university admissions tutors are trying to differentiate between top students for competitive courses, the EPQ highlights the academic skills of research, critical analysis and project planning that are sought. The EPQ proves that students have already gained talent in areas needed to succeed at university such as:
Critical thinking skills
Research and project management methods
Organisational and time management skills
It provides a fantastic discussion point on a personal statement and in university interviews, demonstrating enthusiasm for the topic and a truly unique academic achievement.
It is probably the most helpful thing I have done to prepare me for university.
The EPQ has been a valued part of the Alice Smith curriculum for a number of years and time after time we hear from alumni who have benefited greatly from having pursued it. Many students were able to access highly competitive university courses because of the distinctness that their EPQ topic brought to their application. Others report having found their undergraduate research much more straightforward than their 'non-EPQ' contemporaries because of the personalised support provided to students through their project. Aside from the practical benefits of the course the vast majority of students simply enjoy delving into an area of personal and intellectual interest with sufficient freedom and support to create something unique.
The Extended Project Qualification really allows these students to demonstrate their passions beyond their A Level curriculum and, in the words of one student, "It is probably the most helpful thing I have done to prepare me for university".