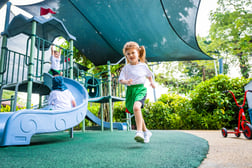 Play: It's the way young children learn. A special supplement to the Children's Advocate, stated, "Play is the main way children learn and develop ideas about the world. It helps them build the skills necessary for critical thinking and leadership. It's how they learn to solve problems and to feel good about their ability to learn. Children learn the most from play when they have skilled teachers who are well-trained in understanding how play contributes to learning. Most child development experts agree that play is an essential part of a high quality early learning programme. Play is not a break from learning - it's the way young children learn."
Research shared in the supplement states that high quality child care programmes have lasting benefits; "Child-initiated activities were important - highly trained teachers used children's interests and activities to guide learning. Kids got to choose from appropriate activities, rather than spending all their time following teachers' instructions. Several studies have shown that children learn more from educational activities that support their own interests and ideas. Some researchers have found evidence that too much teacher-directed activity undermines young children's self-confidence and motivation to learn." From play, it's the way young children learn.
When children play:
They are more likely to remember skills and concepts they have learned by doing things that are meaningful to them.
They test and develop ideas with objects, people, and situations - the key ability for academic learning e.g. putting prior learning into practice by role-playing their trip to the science museum; queuing up, buying tickets, reading the tour map, testing out the exhibits etc.
They develop skills together - physical, social, emotional, thinking, and language e.g. allocating roles in the doctor's surgery role play area; weighing and measuring the doll, waiting for their number to be called, using the stethoscope on the doll and giving feedback to each other showing appropriate emotions
They are doing things they are interested in, so they have a natural motivation to learn e.g. climbing, running, cycling and scooting all develop gross motor skills, balance, muscle control and coordination - while being brilliant fun!
They learn from other children and develop social skills by playing together eg. conflict resolution, fairness, empathy and sharing. Letting children sort out their own disagreements (for example fighting over whose turn it is) allows them to feel the real emotion related to the scenario. It also allows them the opportunity to learn how to manage this emotion appropriately. If we interject too quickly, the learning is stunted and the child learns that the 'emotion' is wrong rather than the action.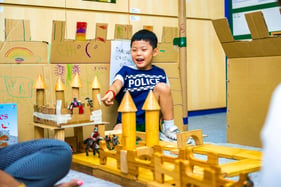 At Alice Smith we apply a play-based approach, based on the British curriculum, in our Foundation stage. The children's learning experiences are planned around their interests, curiosities and their natural quest for knowledge; leading to inquiry, investigations, discovery and active hands-on exploration. But this doesn't have to stop at the end of the school day as play not only has a positive impact on young learners but also strengthens bond within the family.


What can you do to encourage your child to play?

Provide playthings that can be used in a variety of ways rather than one specific use such as:

Blocks can be used to create houses, palaces, bridges, boats, buses or anything your child's imagination can muster,
paper and crayons to create their own drawings to 'colour in' rather than prescriptive books
dolls and toy animals for role play, acting out real life situations and rehearse prior learning,
balls to roll, throw, catch, bounce, balance, kick or just hold
playdough to create small, large, long, thin, fat, colourful creations of any size or shape etc.
Encourage your child to play with ordinary household objects like pots and pans, practicing doing the cooking, washing up, baking, pouring, sharing and eating!
Encourage your child to play with outdoor materials like sticks, sand, water and grass rather than 'manufactured' materials
Provide simple play things that encourage children to be active and use their imaginations, not to watch while the toy does tricks eg. a cape can transform your child into a superhero, villain, old man, wicked witch or anything their heart desires, a cardboard box could be Rapunzel's tower, a car, a rocket or a swimming pool for dolls!
Play with your children, ask them questions about their play ("What are those animals doing?"), and point out things you notice ("You used a lot of bright colors in that picture!") rather than diverting them into a game you understand, ask to be invited into their imaginary world and see where they can take you!
So, do the best thing by your children and just let them play!
Book a personalised school tour with our Admissions team to see our classes in action and discover not only what makes our school unique, but one people are proud to attend.