Choosing an international school can be daunting. You are looking for the perfect balance of high academic standards, engaging, attentive teachers, and fun extracurriculars.
In short, you want your child to thrive in their new expat school. It's a tall order, especially if it's your first trip to Malaysia.
For over seven decades, The Alice Smith school in Kuala Lumpur has been providing an outstanding international education in Malaysia with its ethos encapsulated in the richness of our diverse and caring school community.
Receiving an international British education opens a world of opportunities. British international schools have a strong reputation for quality that is recognised and respected at top universities.
While exploring this article, you will discover what to look for while selecting an international school for your child and the reason expat families have trusted Alice Smith school since 1946.
Choosing an international school in Kuala Lumpur
When choosing an international school, you will want to consider the following 7 factors. Jump to a section by clicking the link below.
We understand that is a lot of information to digest in one sitting, that's why we've made it into a download.
Click here to consume this information at your own pace, you'll receive a complimentary checklist to help you navigate school admissions.
1. Innovative British Curriculum
For children of all ages, our innovative approach to traditional British education helps foster character, emotional intelligence and grit.
As the oldest British international school in Malaysia, Roger Schultz, Head of School says, "This is a curriculum designed to help young people flourish academically and personally with an appropriate skill set to meet the challenges of a changing world."
The curriculum both enriches and challenges students by offering a holistic and broad range of experiences that prepare them for further education and the competitive global workplace.
Students develop a critical and analytical mind, sharpen their leadership skills and understand how better to effectuate change in a diverse community. Students are nurtured through coaching and reflection within small tutor groups. Personalisation through a range of pathways enables older students to combine academic and enrichment options to suit their unique strengths, aspirations and needs.
The Personal, Social and Health and Education (PSHE) programme for young children develops the mind and body through active learning and enhances their understanding of the global community.
The ACHIEVE programme for older children ensures the wider aspects of every student's development are addressed through a dedicated programme of learning experiences, guiding and helping them to flourish as an individual.
To enhance these programmes, external experts are invited into the classroom to give students a deeper understanding of these experiences. This Enriched Curriculum sees expert advisors giving structured lessons as well as one-to-one support to ensure students are as successful as possible.
After exploring the innovative approach to a British curriculum, it is evident that educational atmospheres are pertinent. Having an interactive, flexible classroom allows the teacher more interaction with the children, and for the children to easily be able to collaborate with and learn from one another.
To truly understand our overall approach to learning, take a look at the breakdown of the Primary, Secondary and Sixth Form academic programmes.
Primary School
In Primary School, the development of the whole child is at the heart of our educational philosophy. Primary education begins to build the skills required to be a confident, creative, critical and compassionate leader. Our Primary Curriculum, which was nominated in 2015 for the 'British International School of The Year Award - Times Newspaper, UK', is specifically designed for our student body.
Our Primary students:
Achieve greatness academically
Acquire deep subject knowledge
Have the ability to use the skills learned in the classroom in everyday life
At our Primary Campus, we highly value stimulating learning experiences. Play-based learning in primary will foster a more well-rounded child and make learning more interesting and hands-on.
In Reception, our students learn Bahasa Malaysia. From Year 1, every child learns one modern foreign language and can choose from Mandarin, Bahasa Malaysia or French.
In addition to language studies, Primary students receive teaching from specialist teachers in art, P.E., swimming and music.
Secondary School
The Secondary Curriculum is designed in such a way that it challenges our students and helps them build the skills necessary to be successful in life.
The curriculum is broken into arts and design, biology, business and economics, chemistry, computing, design technology, drama, English, geography, history, music, languages, physics, Achieve (PSHE), science, media studies and social sciences.
We also provide a Curriculum Support team who are responsible for:
Ensuring all students fulfill their potential
Supporting students academically and personally
Facilitating independent learning
Sixth Form
Our Sixth Form programme offers students an enriched experience in a caring international community that will prepare them thoroughly for the next step in their life.
Students achieve excellent academic results, are given the support they need to apply to the best universities in the world and have exceptional opportunities beyond the classroom to develop their skills and interests outside of the academic curriculum.
A Transferable Education
In order to ensure students are meeting the same learning standards, we conduct an assessment at the end of every year to benchmark Alice Smith students against students in the UK. This process ensures the education at Alice Smith School is easily transferable both back to the UK and to universities around the world.
To learn more about why an innovative approach to the traditional British education is better for your child, click here.

2. Quality of Teaching Staff
Through an innovative, 21st-century approach to the traditional British curriculum and purposeful-built facilities, we attract a world-class teaching staff with a significant percentage of them being expat teachers.
"The vast majority of our staff are British trained and educated as well as having direct experience of teaching in British schools or in the British education system overseas," said David Potts, VP for Learning and Teaching at Alice Smith.
The teaching candidates, according to Potts, have a proven track record of professional success in achieving the best academic outcomes for their students. They also have to demonstrate impact beyond the classroom through leadership experience or through the provision of developmental experiences for children outside the curriculum; for example, through sports coaching, adventurous activities, the arts or intellectual enrichment.
In addition to demonstrating excellence both in and out of the classroom, they must also prove their commitment to ongoing professional growth and learning.
"They continually develop their professional skills whilst evaluating and intelligently incorporating current educational research into their teaching and showing an awareness of their ongoing professional learning priorities," Potts said.
We invite you to learn more about coaching, an Alice Smith School initiative which encourages our teachers to learn from one another.
Teaching Staff Bring Extensive Educational Backgrounds
The vast majority of our faculty hold Bachelor Degrees with a UK Government-approved teaching qualification, according to Potts, and many hold postgraduate qualifications in education or fields related to their teaching specialism.
"Almost all staff also hold professional leadership qualifications such as the UK National Professional Qualifications in Middle/Senior Leadership or Headship which require proven and impactful action research into areas of school improvement or specialist qualifications in coaching, English as an Additional Language, Special Educational Needs, child safeguarding and many others," Potts said.

Exceptional Teaching Staff help Students Exceed
The Alice Smith School references the following five characteristics when recruiting teachers to guarantee they fall under the definition of an exceptional educator.
1. Love working with young people
Many teachers make the mistake of entering the profession simply because they love their subject. Whilst this is of great importance in order to ensure one's passion can be used to motivate and inspire others, it is simply not enough to ensure real and lasting success.
The primary motivation for a teacher has to emanate from a belief in the value of investing in young people of all inclinations and personality types and to recognise the importance of creating positive experiences which explicitly and implicitly form their characters.
It is only mindsets like these that enable teachers to form highly effective learning relationships with young people that help them get the most from their educational journey.
2. Know your 'stuff' and commit to your own lifelong learning
Clearly, if you want to teach, you need to have a secure and advanced understanding of the subject in question, both through your own learning but also through a proven ability to pass that understanding on to a varied and variable audience with real clarity.
This therefore requires a knowledge and understanding of pedagogical theory and an awareness of the ever-expanding field of education research, which increasingly draws from psychology, neuroscience and a range of social science niches.
"For example, we expect our math teachers to understand exactly how and why an individual student doesn't yet understand how to simplify an equation so that they can help to construct a bespoke support strategy that works for them instead of simple saying, "this is how to do it, now just practice more"," Potts said.
3. Be a team player
Modern teaching is highly complex and no longer allows teachers to act in isolation with their class. Whether through subject departments, pastoral care teams, professional learning partnerships, cross-curricular working parties or distributed leadership networks, teachers are required to collaborate in everything that they do.
Teachers are involved in thousands of interactions everyday with students, colleagues, parents and external agencies and in doing so they are required to communicate effectively, demonstrate emotional intelligence and make significant contributions to collaborative endeavours as a fundamental part of their role.
At Alice Smith, we look for the precursors of these traits in teaching candidates at the point of selection and determine which traits can be developed further through our programme of professional development.
4. Work hard
This one is fairly self-explanatory.
Exceptional teaching requires a lot of time and energy in terms of planning, lesson delivery and assessment. When this is coupled with the extra-curricular contribution expected of all teachers to ensure students' wider development the role of a teacher is a demanding one.
We therefore expect that Alice Smith teachers have an appetite for hard work which is borne of a strong set of values, a genuine love of teaching and a belief in every student's entitlement to learn.
5. Be positive and solutions-focused
We work with human beings and as a consequence no single approach will work with every student every time. We can always find ways to innovate and to constantly refine our approach, but this requires a mindset which is skilled in critical self-efficacy and a continual motivation to do the very best for the unique group of individuals in our care at any given time. Not everyone can do this with ease, but it is something that can be learned and at Alice Smith School, we invest a great deal of time into developing this habit in our teachers as well as our students.
The five characteristics and skills combined above ensure teachers can effectively motivate students to excel and take control of their progress.
"Our aim is not simply to ensure Alice Smith alumni leave us with excellent academic results and a character formed by many highly positive developmental experiences as an end-point," Potts said. "Our aim is to ensure that they have the skills, outlook and well-founded self belief that will carry them forward into successful, fulfilling and worthwhile professional, academic and personal futures wherever and however they choose."
We invite you to learn more about how our school is developing leading professionals by clicking here.

3. University Progressions
Higher education provision is a core part of our Sixth Form package with the focus aimed at understanding what American counsellors call the 'right fit' university for each student.
"We look at their academic ability, professional objectives, extra-curricular interests and even personality traits to help guide students to the right university for them," said Joe Marshall, Head of Higher Education at Alice Smith.
Students approaching graduation have a higher education coordinator to answer questions and guide them to ensure they have the courses they need to gain admission to their top choice university.
There is also a Higher Education Programme to help students with their decisions. This programme is based on the ethos of the following:
Inform: We aim to provide each student with information, tools and resources to enable them to effectively research higher education options.
Guide: Choosing a university can be overwhelming given the breadth of information. At Alice Smith, we talk through options and offer guidance for each student and discuss the pros and cons with them.
Support: As students make their higher education decisions, we will support them in realising their plans.
The extra personal care and support during the university application process for our Year 13 child was outstanding," said a parent of an Alice Smith student, Amandeep Singh. "Our children have thoroughly enjoyed the school environment. This school will always stay close to our hearts and we highly recommend this school to others.
Learn more about how the High Education Programme is helping Alice Smith students.
Alice Smith Graduates Progress to World-Class Universities
The academic results Alice Smith students achieve place us among the best British international schools in the world.
At A level in 2018, 92% of our grades were in the A* to C range with 56% of grades at A* or A, outperforming both the UK national average at 26% and the Independent Schools Council (ISC) schools average at 47%.
Last year, 85% of our students progressed to their first choice university destinations, which included the University of Oxford, the London School of Economics (LSE) and Durham University.
With the Higher Education Programme equipping our students with the knowledge they need to make an informed decision and impressive A Level exams, our graduates gain admission to the top universities.
We invite you to see this impressive matriculation for yourself by clicking here.
"Alice Smith has done so much for me," said alumnus Ellery Nadarajah, who attended University College London and studied medicine.
"I was able to play the flute with the Malaysian Philharmonic Orchestra and also climbed the second highest mountain in Africa, Mount Kenya. It took me all over the world. I got a scholarship to go to America to play my flute and that has built my musical culture; on top of all the academia as well. Alice Smith was so much more than a school to me."
We understand this is a lot of information to digest in one sitting, that's why we've made it into a download.
4. Purposeful-Built Facilities Significantly Aid Student Learning
Modern, fresh, vibrant, clean, comfortable, bright, open. Classrooms that appear similar to what one would find on a university campus. Picturesque buildings constructed in such a way as to let fresh air run through the open areas. Resources all around that inspire creativity within our students. Comfortable seating areas scattered around the campus so that the moment a student is inspired, they have somewhere to sit down and get to work.
These are what our families see the moment they walk through our doors. These types of learning environments inspire students with the choices they have in how they learn.
Our modern learning spaces are designed to be adaptable and responsive in their use and foster a collaborative learning environment, enabling students to work in groups or individually. It facilitates teaching and learning in different ways - for all types of learners and all ages.
This evolution is to ensure students develop skills they need to be successful in an increasingly global marketplace. In a 21st-century learning environment, traditional classrooms are replaced by adjustable, technology-rich environments, which facilitate all types of learning activities from individual research to classroom discussions to collaborative large-scale projects.
There are three aspects a modern learning facility provides students and practitioners:
Flexibility: Students and practitioners should have the ability to combine two classes into one for team-teaching, split a class into small groups and spread them over a wider area or combine different classes studying complementary learning areas, according to Modern Learning Environments by Marc Osborne, a leading educationist.
Openness: In a modern learning facility, there are movable walls, flexible workspaces, more glass and the use of a learning common which is a central teaching and learning space that can be shared by several classes. These areas give all students access to what other classes are learning so that teaching and learning can be complemented and enhanced, according to Osborne.
Access to resources: In most cases, learning commons are surrounded by break-out spaces allowing many different activities to take place. Whether it's reading, group work, project space, wet areas, reflection or presentations and whether it's wireless or wired technology, all individuals will find what they need, according to Osborne.
"Ensuring that physical space, furniture and technology can readily adapt to pedagogies and learning preferences creates a more active and engaging experience for learners and teachers," said Roger Schultz, Head of School at Alice Smith.
Does the design of learning spaces affect the way that learning can best take place and if so, why? We invite you to learn more by clicking here.
A Look at the Purposeful-Designed Buildings at The Alice Smith School
We are committed to providing your child with a learning environment that is second to none. We work with outstanding educational designers to continually improve our facilities to align with best practices and are forward-thinking world leaders in this regard.
Because The Alice Smith School is not-for-profit, school fees are invested into facilities and learning programmes such as the Jubilee Centre, new library, Sixth Form and sports facilities.
Jubilee Centre
The Jubilee Centre is a building divided into two sections: the dining hall, which is an open air, bright, modern and comfortable all-weather area with a capacity to host over 200 children, complete with a sunken play area.
The second section is the upper floors which house the parents' deli, administration offices, transport and catering offices, large meeting rooms and a lovely roof garden for educational purposes.
This space received the Gold Award in 2015 from Pertubuhan Akitek Malaysia (PAM) - Malaysian Institute of Architects.
Sports Complex
Located on the Secondary Campus, the Sports Complex boasts world-class track and field facilities, a high quality natural turf football field, an artificial surface for a 5-aside field hockey built to an international standard and three futsal, tennis and netball courts. An additional multi-purpose grass playing area can accommodate a range of outdoor sports such as softball, t-ball, touch rugby, football and frisbee.
The 8-lane synthetic running track is certified by the International Association of Athletics Federations (IAAF), with Alice Smith being the first international school in Malaysia and the third in the world to receive this standard of certification.
Alice Smith's Latest Innovative Additions to the School
Our latest addition is the opening of new facilities involving over 6,000 square meters of extensions in addition to refurbishment to the Humanities, Library & Sixth Form and Indoor Sports blocks.
At both campuses, our expanded, modern and bright facilities provide flexible, technology-rich teaching and learning spaces. The adjoining break-out spaces at the Secondary Campus are a tremendous new resource for students and staff, facilitating different ways of learning and teaching outside of the classroom. We believe that a safe, positive, healthy and engaging learning environment stimulates learning.
To truly understand the atmosphere on our campus, including the diversity and the people who make it one full of camaraderie, collaboration and connectivity, we invite you to see it for yourself by clicking the button below.

5. A Campus Rich in Diversity
Our student body has 47 different nationalities represented with over 34% of them from our founding nations of the UK, Ireland, New Zealand and Australia.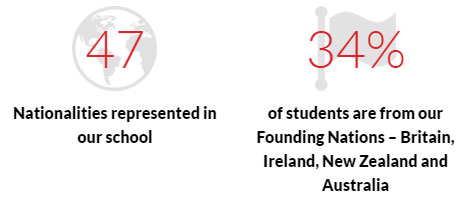 At The Alice Smith School, 82% of our teachers come from the UK and many of the others are specialist language teachers from Europe or local Bahasa teachers.
To those curious about the diversity on campus, Andrea Grassby, the Director of Marketing and Admissions at Alice Smith School, recommends seeing the campus for yourself.
"Visit and see the year group your child would be entering as the diversity and proportions of founding nations are clearly visible," said Grassby. "It's really reassuring to the children as well to see that there are 'kids like me' in their new classes helping to ease any anxieties they may have about joining a new school."
According to an Alice Smith alumna, Sanngeeta Nadarajan, diversity is what makes us unique and witnessing a diverse campus helps shape your perspective in a healthy way.
"Culture influences and shapes the lens through which we view the world and diversity is not always about our heritage, but what makes us unique as individuals."
We invite you to see our campus for yourself, you'll quickly discover why teaching staff, families and especially students love Alice Smith.

6. Prime Location with Modern School Transportation
Our Primary and Secondary Campuses are located only 20 minutes from one another. They are also a short distance away from Kuala Lumpur's exciting city centre with the Secondary Campus just over a 30 minute drive and the Primary Campus only 10 minutes away from the downtown core.
"The travel times are very similar and although the Secondary Campus is further away geographically, because of the new highway and the fact we are heading out of the city, we experience much less traffic, it is only about 10 minutes extra travel time," said Grassby who is also a mother of children attending both campuses at The Alice Smith School.
New Highway Removes 25 Minutes off Commute
Our Secondary Campus is purpose-built on a 25-acre site in Equine Park, approximately 30 minutes south of Kuala Lumpur. The much anticipated MEX (E20) highway at Seri Kembangan opened in December 2015, considerably reducing travel time between our campuses and making these wonderful facilities accessible to all our students and our wider community.
"The new exit makes driving to school very quick and convenient now and has taken about 25 minutes off the journey time," Grassby said. "It has made a huge difference."
In addition to the new highway, we also offer a comprehensive bus service, to safely transport children to and from school.
Alice Smith's School Bus Service
Our comprehensive school bus service covers most of the major residential areas in Kuala Lumpur, and is available to students at both the Primary and Secondary Campuses.
"My children get on their school buses to both campuses within five minutes of each other and we live in the centre of KL," Grassby said. "The benefits of being able to have a much bigger campus and better facilities compared to a city centre campus far outweigh the slightly extra travel time to the Secondary Campus."
Not only does the bus system make the lives of parents easier, it is also equipped with a GPS so parents can track their children's bus both to the school and back again in the afternoon through an app.
"It's reassuring to know that your child has arrived safely and also when you need to go to the stop to collect them," Grassby said.
Our buses are equipped with seatbelts for the safety of the children, and a teaching assistant rides on the bus heading to the Primary Campus.
"This is really important as it's not just someone from the bus company, it's an actual Alice Smith member of staff," Grassby said.

Our bus service is provided by the YKY Bus Service, managed by Mr. and Mrs. Yee. Mr. Yee is based in the Transport Office at the Primary Campus and Mrs. Yee is based in the Transport Office at the Secondary Campus.
We invite you to learn more about our bus system and the routes it takes by clicking here.
Friendly Faces on The Alice Smith School Bus
Not only are the buses and the commute to the school a good time for students to work on their studies, read a book or listen to a podcast, it's also time to get to know fellow students and the Alice Smith School staff members, such as Mr. and Mrs. Yee.
The Yee family have worked on our school buses for close to 40 years and truly embody commitment, loyalty and service to the school community.
"I'm thankful that we've been able to safely grow from driving one 18 seater bus to operating 26 buses, many of which are 44-seater, and transporting over 500 children to school and "back home", said Mr. Yee."

7. Scholarships and Bursaries
Through our scholarship programme for students taking (I)GCSEs and A Levels, we are able to support young individuals in pursuing their ambitions for higher education and future careers.
Alice Smith offers three types of scholarships and bursaries:
KLASS Scholarships
Reach for the Stars Scholarships with up to 50% reduction in fees
Principal's Bursary with a 25% reduction in fees
KLASS Scholarships
This is a full scholarship with an underlying aim to benefit high achieving post-SPM (Malaysia's certificate of education) Malaysian students with limited financial means.
Scholars are expected to push themselves in all aspects of learning, attain high levels of excellence in both academic and non-academic fields and become a fully integrated member of our school community.
Applicants are:
Strong academically
Aiming for an international level of education at a world-class university
Someone who fulfills all criteria for entry onto A Levels in our Sixth Form
"Alice Smith's 70-plus years of history and dedicated staff can help nurture and shape me to achieve my maximum potential," said scholar Joshua Liang. "With strong faith, I will in future make a mark and add to your list of outstanding alumni."
Another recipient, outgoing and cheerful Alex Gan sees the scholarship as a means to achieve success in the future and make those around him proud.
This scholarship can help meet my education financial needs as my mom has been working very hard to support me so far," Gan said. "A Levels are a worldwide recognised qualification which will help me gain much more cherished knowledge and further my leadership and communication skills. I'm very grateful to be awarded this scholarship.
Reach for the Stars Scholarships
Reach for the Stars Scholarships offer up to 50% reduction in tuition fees for students joining the school to study for their (I)GCSEs and A Levels. These are based on academic merit and their potential to add to the school community.
For existing Alice Smith students Reach for the Stars Scholarships are a means tested award for students who have exceptional academic attainment and have made a significant contribution to the school community. Scholarships of up to 50% discount are awarded to students studying for (I)GCESs and A Levels.
Principal's Bursaries
The Principal's Bursaries are awarded to current Alice Smith pupils progressing to Sixth Form study in recognition of outstanding contribution to the school community and academic, artistic or sporting attainment. Bursary recipients receive a 25% discount on their tuition fees in the Sixth Form.
We invite you to find out more about our Scholarships for (I)GCSE and A Levels.
Take this information with you!
Download our free eBook today!