During these challenging times of COVID-19, the livelihood of many people especially the B40 group are affected. The B40 community comprises of Malaysian citizens in the bottom 40% household income range, also known as the B40 group. Their only meal today could be their last. Every empty plate, every empty kitchen, can be filled up because of you.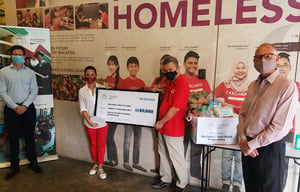 The Alice Smith School Foundation is partnering with Kechara Soup Kitchen Society to fight hunger and eradicate poverty. Our mission - to raise funds and provide food provisions for 25 families living in poverty with enough food sustenance for one whole year. To support those in need and encourage giving among the community through its Foundation, the Alice Smith School donated RM 20,000 to Kechara Soup Kitchen Society to kickstart its support of the Build Kindness Campaign. Read more about Kechara and the work they do below. Scroll down further to learn more about the Build Kindness Campaign.
Kechara Soup Kitchen Society (Kechara) has come a long way since it was registered as a non-governmental organisation (NGO) in 2008. As Kechara continues to grow in Malaysia, they don't just plan to feed the homeless but also plan to curb homelessness even before it happens. In 2012, it expanded to set up the Kechara Food Bank.

After more than a decade, Kechara has now grown into a well-known food distribution network that also offers various types of assistance – from feeding the less privileged to setting up mobile clinics and food banks, upskilling and training single mothers for job placements and providing shelter for the elderly. They help the poor, regardless of skin colour and creed.
On 5th November 2020, we launched the Build Kindness Campaign in partnership with Kechara Soup Kitchen Society. Discover how the Foundation is supporting the campaign in partnership with Kechara through the video below.
We have now raised RM 63,000 cash donation and collected another 916.5kg of food items worth RM 6,200. These have been handed over to Kechara Soup Kitchen Society and were distributed to needful families during December.

We are now able to support 25 families with enough food sustenance for 7 months - over halfway towards our goal. Our Build Kindness campaign will continue till August next year.
Help us reach our goal and click the image below to start your donation.