From March 7th till March 14th, our students from Years 3 to 9 eagerly competed in the Education Perfect Global Languages Championships that took place online. 879,449 students from more than 2,500 schools around the world took part and battled tirelessly for one week. A lot of resilience was needed as they answered more than 79,400,000 Languages questions in total over seven days!

Our Primary and our Secondary students worked extremely well together and used our character strength of 'perseverance' throughout the week's competition. They worked incredibly hard and answered 814,097 language questions, scoring 330,339 points in Mandarin, French, Bahasa, Spanish but also Japanese, German and Arabic. Thanks to our students' spectacular effort, Alice Smith came first in Malaysia and fourth in the world, which is our best global result so far. This is a genuinely outstanding achievement and we are extremely proud of our little linguists!
Click here and select 'School Stats' to access the full scoreboard.
Our Year 3 students were particularly excited about taking part in this global competition for the first time. They were very proud to join their peers from older year groups and to play a part in our fantastic overall results. Accessing the different activities throughout the championships allowed our students to reinforce the vocabulary bespoke to our current units, but also to revisit and to recycle phrases they'd learnt previously. Some students also bravely tackled new units, building up their vocabulary independently. Not only was the competition fun, but it also allowed our students to develop and reinforce their Listening, Reading and Writing skills in their chosen language(s), making some excellent progress overall.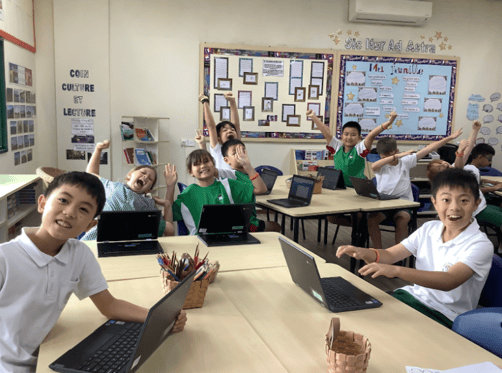 This time round, 117 students achieved their Credit awards (500 to 999 points), 48 students achieved their Bronze awards (1,000 to 1,999 points), 12 students achieved their Silver awards (2,000 to 2,999 points) and 10 students achieved their Gold awards (3,000 to 4,999 points). A particular well done to Yasmin Teong (Year 6) who worked extremely hard to reach an Emerald award (more than 5,000 points) and who came third in JB and EP.
And finally, congratulations to our two finest linguists who battled fiercely until the end of the competition: Kai Ze Lim (Year 6, 2nd in JB and EP) and Julian Wu (Year 5, 1st in JB and EP) achieved the most coveted Elite award (10,000 points and more), placing themselves in the top 1% of the overall competitors. Kai Ze ended up 77th in the world and Julian, 70th - massive congratulations to the boys for those superb results!
Click here for a list of all results (JB and EP).
Congratulations to everyone who took part and who helped Alice Smith do so well in the Education Perfect Global Languages Championships. The Languages teachers from our Primary and Secondary campuses couldn't be prouder!
Remember to follow us on Twitter: @KLASS_JB_Lang and @KLASS_EP_Lang
Joanna Asse Drouet
Head of Languages, Primary Campus