The number of international schools offering education to students of all ages around the world, like the Alice Smith School in Malaysia, is constantly growing. They are an important part of an expat community and families in many countries.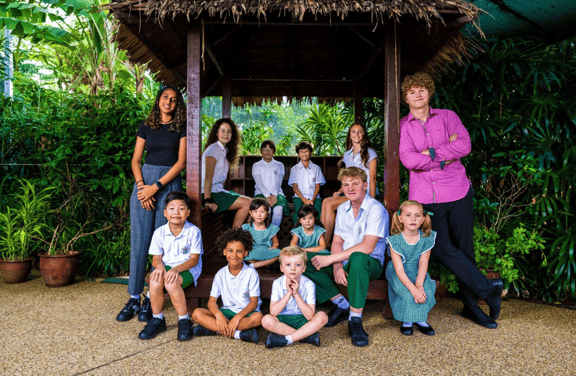 But if you've not heard of international schools and you don't know how they work, here is our beginner's guide to international schools.
What are international schools?
Moving to a different country or, indeed, moving from another country to the UK is exciting but also a challenging time for families, particularly for children. They are often leaving behind friends and other family members. Going to a new school is daunting and even more so when that school has completely different cultures, teaching formats and educational curriculums.
International schools are usually aligned with countries other than their location, including France and Germany in Europe, as well as the USA.
In 2009, the IASL (International Association of School Librarianship) established criteria to help define what international schools are:
The student's education is transferable across other international schools

There is a greater mobile population than you find in state schools

There is a multilingual and multinational student body
Students will follow an international curriculum
The schools are internationally accredited, which could be by the Council of British International Schools (COBIS), the Council of International Schools (CIS) or another body
The international schools are non-selective
English is the principal or bilingual language
However, it must be remembered that this is just a list of criteria; there are international schools that are selective.
How do international schools work?
An international school is able to educate children based on their native curriculum and helps them adjust to their new country. For example, the Alice Smith School in Kuala Lumpur, Malaysia, provides an all-round education that has been developed around the UK's curriculum for 3-year-olds up to 18-year-olds.
One of the main advantages of an international school is that they follow a curriculum that is recognised internationally. This makes the transition from one international school to another much easier for the children, and any exams are valid in other countries, too.
The curriculums include:
International GCSEs or IGCSEs
Are international schools better than other schools?
A question that is often asked by parents is, are international schools good? This really depends on the quality of the teachers at the school, as well as their management. However, they offer students the opportunity to meet and interact with children from a wide range of other cultures and backgrounds. They are able to learn about different countries, their customs and traditions, on an educational as well as a social level.
Similar to independent schools, it's not so much about international schools being better than other schools. International schools offer students the opportunity to learn about and experience diverse global cultures, whereas local schools are more focused on local cultures and communities.
Are international schools private?
Although international schools are private, there is a choice between not-for-profit and for-profit schools.
Both types reinvest in their schools and students. The main difference between the two is that for-profit international schools have to pay a portion of their fees to shareholders or owners. However, not-for-profit schools, which often hold charitable status, are able to use all their income to benefit the school and its students.
How much do international schools cost?
Are international schools expensive is a question often asked. Generally, fees range between £8,000 and £49,000 a year, depending on the school, its facilities and teachers, and its location. That said, most schools average around £20,000 per annum in fees. If students are going to be boarding, the cost will be higher. However, some parents' employers will offer subsidies towards education fees as an incentive, and to help families settle in a different country. There are also bursaries and scholarships available.
You may find that some international schools will require prospective students to have attained a certain academic level, particularly at certain ages, prior to admission. In addition, they may have to go through an assessment process or even an admission exam. So, it's worth doing your research before choosing an international school.
The benefits of international schools
There are many benefits to choosing a British international school for your children's education, including:
They provide students with a well-rounded multicultural, international education. They have the opportunity to meet and collaborate with others from a wide variety of backgrounds and cultures, without the language barrier as English is the primary language
They are more used to helping students settle into school, encouraging them to make friends quickly, because of its mobile population
They are often more accepting of students being out of school during term time to accommodate cultural or religious events, and to visit family in their home country
Students can move between international schools because each school follows an international curriculum
International schools' curriculum and exams are widely recognised and accepted by top schools and colleges, universities and employers worldwide
Many international schools attract excellent, talented teachers who have often done their training and worked in the UK
They have a wide variety of extra-curricular activities, from volunteering and performing arts through to sports, that are of a high quality
Choosing an international school
Before deciding on an international school for your child, there are a number of factors to consider. These include:
Where the school is located?
Which curriculum do they follow and their teaching style?
As well as English, which other languages are taught?
What qualifications are available for students, considering further education at some point
The school's previous academic results and their reputation
The variety of extra-curricular activities
The school's facilities, including boarding facilities
Any enrollment or admission requirements for students
Annual fees, including any bursaries and/or scholarships available
Not all international schools are the same and as with local and non-international schools, some are more focused on academic achievement while others favour sports. It's important to understand the school's culture and teaching style to make sure it suits your child. What works for one child may not work for another; they will shine in some environments and not in others.
It's also worth remembering that just because it's an international school, it should still be monitored and regulated.
Check which accreditations the school holds and ask to see their last inspection report. Inspection agencies to look for include:
British Schools Overseas Inspection (BSO)
Council of British International Schools (COBIS)
Council of International Schools (CIS)
International Schools Quality Mark (EDT (ISQM)
New England Association of Schools and Colleges (NEASC)
Western Association of Schools and Colleges (WASC)
The Alice Smith International School was founded by Alice Fairfield-Smith and is the first British international school in Malaysia. With their Primary Campus in Kuala Lumpur and a Secondary Campus in nearby Selangor, students are encouraged to explore and discover an abundance of opportunities within an innovative, supportive and connected community.
A leading international school in Kuala Lumpur, their British-based curriculum is tailored for 3 to 18-year-olds; the Early Years through to attaining the necessary qualifications for further education. For more details about the Alice Smith International School, go to our website or contact the school directly.