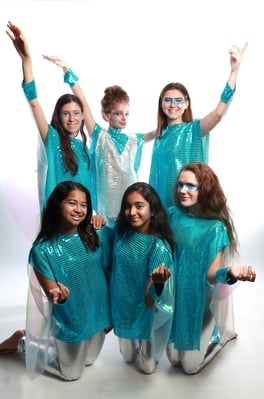 As the clock ticks down to this year's Shakespeare's Double Bill we caught up with our two lead actors, Electra (year 7) and Hunayn (year 8), from The Tempest Company.
Electra is enjoying her role of Ariel a spirit, "I really love my role because I feel that Ariel has so many sides to her. Sometimes she's a cheeky nymph, but other times she's a raging harpy seeking revenge, but she is also desperate for Prospero's affection and love. She has so much depth to her character, and I am really excited to bring this part to life."
Although this is Electra's first performance in EP, it's not her first Alice Smith performance having played Mary Poppins in the year 6 production last summer, and she is already planning to study GCSE Drama in year 10. "I intend to take drama for my GCSE's, but I do have a few years until then, so in the meantime I will carry on loving Drama. Drama gives me a chance to make new friends, and performing gives me a chance to show others my love towards drama. My big dream is to become an actor."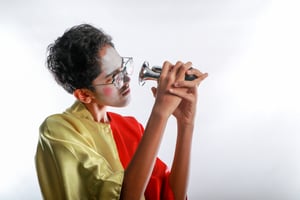 For Hunayn, who is playing Trinculo, this is his second EP production having been in last year's musical "Little Shop of Horrors" but he is relishing the challenge of The Tempest, "I really enjoy the character and the role Trinculo plays through the play. This is probably my favourite character I have ever played!"
The Company has been rehearsing together since September bringing together students from across years 7, 8 and 9 giving them a shared purpose which both actors feel has allowed them to develop both skills and new friendships, "I feel that the rehearsals are going very well because everyone is able to collaborate and share their ideas. My favorite part of being in the Tempest is being able to create new friends, and learn from their acting techniques," said Electra, while Hunayn is enjoying "Hanging out with friends and acting on stage."
So what should we expect from the performance on the 10th and 11th Dec? "I think that you should expect an amazing performance from everyone, and expect everyone to be working hard and giving their very best to give them an incredible performance. They should come so they are able to witness the level of the Alice Smith Drama Department." said Electra and Hunayn added;
The Comedy scenes especially will be good!
You can see Electra, Hunayn and the rest of our company perform The Tempest on the 10th and 11th December at 6pm together with our older students who will be tackling Macbeth in the second half of our Shakespeare Double Bill. Tickets are available from the school.