For their new topic our Year 6's were treated to inspirational messages from two very special guests connected with their new cross-curricular unit - Professor Peter Frankopan and Joanna Lumley OBE FRGS.
In Key Stage 2 our Primary curriculum approach uses flexible, well planned cross-curricular units to encourage students to make sense of their learning by creating links between subjects and the real world. Learning initiated by student questions is encouraged, celebrated, tracked and recorded as part of the connected and authentic learning process.
So how do our teachers engage students in each new topic?
With a 'Hook' - an engaging activity or presentation that captures the students attention and gets them to start asking questions about their new topic. This might be coming into school to find their classroom full of trash, an astronaut visiting or a giant slip and slide in the playground!
Now finding great hooks while we've been in distance learning is a challenge but the Year 6 team were not to be deterred! They provided their students with some clues and encouraged them to work out what their new topic might be. Can you work it out?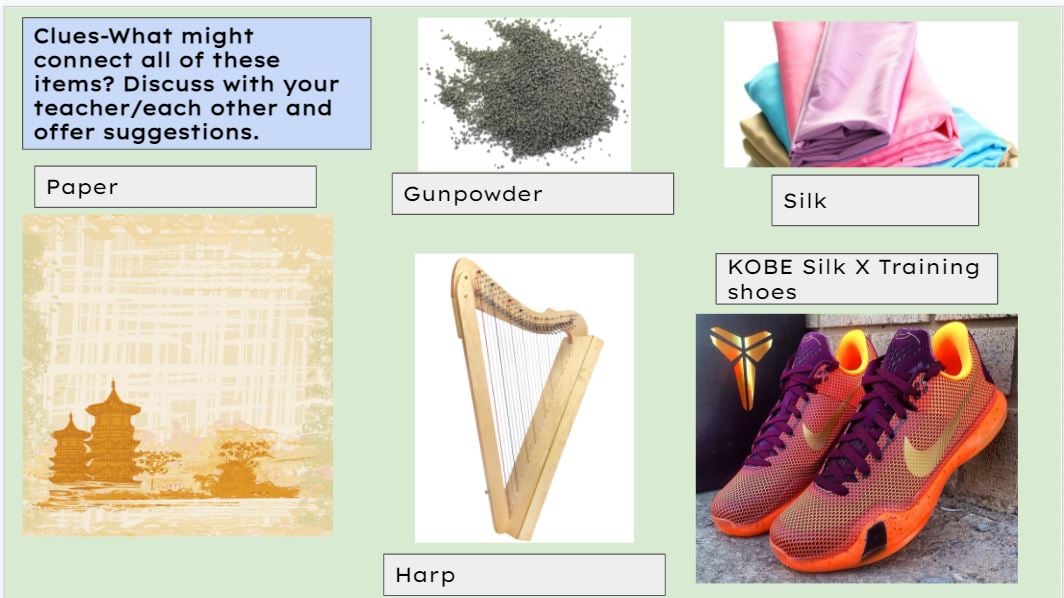 It's the amazing 'Silk Roads' and the students began to learn more about the topics they would be exploring including the routes the traders took, the type of materials that were traded and the culture that was shared along the way.
Inspirational Messages
To help inspire the children further our team had two surprise messages for them.
The first was from Peter Frankopan, Professor of Global History at Oxford University and best selling author of 'The Silk Roads' and 'The New Silk Roads'. Listen to Professor Frankopan's special message to Year 6 below.
The second was from Joanna Lamond Lumley, OBE, FRGS. Miss Lumley is a British actress, presenter, former model, author, television producer, and activist. She lived in KL as a child as she explains in the personal note to our Year 6's below.
"I was in Malaysia from 1951 to 1954 during the Emergency as my father served with a Gurkha regiment deployed there: and so we went to the Army School in KL, long since gone, as has our bungalow. From our verandah we could see the Batu Caves in the distance.
All my memories are vivid, and a few places remain unchanged; but the rubber plantations and tin-mines and kampongs have disappeared. It was my dearly loved home for three years: I was five when we arrived and eight when we set sail for Southampton, so I was a bit younger than Year 6.
Sometimes I dream of the tok-tok bird and monsoons, and moonflowers and the Selangor Golf Club's swimming pool."
Miss Lumley also filmed a fantastic and very informative series of documentaries along the Silk Roads which our Year 6's have been watching extracts of and here she talks to them directly about her experience of exploring the silk routes.
Integrating our specialist teaching
Our students receive specialist teaching in range of subjects and an important part of our cross-curricular approach is to integrate this into the topic. For the Year 6's and their amazing Silk Roads topic this will include;
'Running the Silk routes' in their athletics unit with the PE team
Focusing on music and instruments from the Silk Roads with Mr. James in their music classes
And in maths learning algebra, the principles of which were founded along the Silk Roads in Khiva.
Final Objective
The final objective for this unit of learning is for our Year 6's to write an excellent discursive essay. With such inspiration to get them started we look forward to reading the finished essays!
Thank-you to Ms. Meakin and the Year 6 team for sharing their inspiration hook with us.