What are you protecting? Someone? Something? Maybe a secret...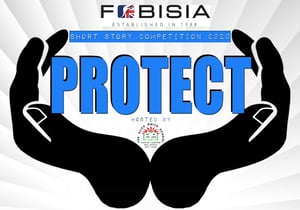 'Protect' is the theme of this year's FOBISIA (the Federation of British International Schools in Asia) short story competition. Open to students in years 3 to 13 in any of the 68 FOBISIA member schools the competition encourages creative writing. Full details can be found here.
We're excited that this years competition will be judged by Curtis Jobling the designer of worldwide hit children's television show 'Bob the Builder', and the author/illustrator of numerous children's books.
Although renowned for his work in film & TV, Curtis's true love has always been horror and fantasy for older audiences. His acclaimed series of epic fantasy novels, 'Wereworld' was published by Penguin worldwide, while his darkly comic young adult thrillers, 'Haunt: Dead Scared' and 'Haunt: Dead Wrong' were published by Simon & Schuster in the UK. His middle-grade novels, 'Max Helsing & The Thirteenth Curse' and 'Max Helsing: The Beast of Bone Creek' are published by Viking in the US and Orchard in the UK.
We asked Curtis what he would be looking for this year's entries.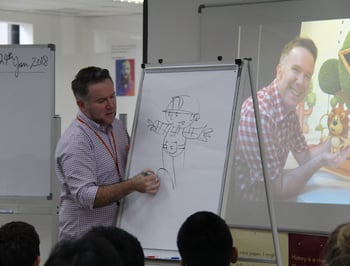 "We're looking for exciting plots. Stories that really drive the characters forwards, character development, we want fabulous description, we want stories that make the reader gasp, laugh, cry or cover their eyes in fear."
At Alice Smith School we've been fortunate to have Curtis visit us here in Kuala Lumpur. He's delivered fantastic story writing workshops in English, given illustration advice in Art and with Media Studies students he has explored animation and his experiences of working in the creative media industries.
So what advice can Curtis give our would-be writers?
Think of the ending first! In my opinion the best short short stories are the ones with a twist in the tail, a surprise ending, a sting that the audience isn't expecting.
Think about what 'Protect' means. "You could be protecting someone, a parent protecting a child, a wolf protecting it's cub," or maybe "Your hero is protecting an item or a secret."
Get writing guys. I can't wait to see what you come up with!
The closing date for this year's competition is 28th February 2020 and you can find all the details on the competition website. Curtis would also be delighted to work with any of the FOBISIA schools. See www.curtisjobling.com for further details.
Good luck and we look forward to reading your wonderful stories!