Our students had a wonderful time making perfume and, although they didn't realise it, they were working on their core skills for maths and literacy, developing their fine motor skills and using their imaginations at the same time!
Let's take a closer look at what they were doing and how you could do this at home with your child.
Like all good projects, let's start with an idea and a plan. Talk with your child about what a perfume is and what they will put in it. How would they like it to smell? Ask them questions about why they think that and get them to explain their ideas. This will support your child in developing a rich range of vocabulary and language skills.
Once you have a plan, head outside and explore the garden! Collect a wide variety of natural materials from outside such as leaves and flowers. Nature offers so many colours and textures for your child to experience. Discuss the similarities and differences in smell, size and shape of the items you're collecting.

Back at the tables in school the children at Alice Smith used tools such as scissors and a pestle and mortar to prepare the 'ingredients' for their perfumes. The children chopped up leaves and flower petals and placed them into their bowls with pieces of dried fruit. They then carefully transferred water into the bowl using the pipettes and stirred the whole mixture together. Using tools like this helps strengthen hand and arm muscles and well as developing hand-eye coordination, all essential skills for writing. At home you may have other 'grown-up' tools and instruments your child could use to prepare their perfume such as a turkey baster and small jugs. As the students start to prepare their ingredients, our teachers look for opportunities to support their early maths skills. At home you could 'Count the number of petals you cut from the flowers' or 'Count how many drops from the pipette you are adding'. Understanding numbers will help your child in all areas of maths. When a child hears adults counting, using numbers and talking about quantity it develops their understanding of the concept of number.
With the ingredients all added and well stirred the perfume is finished! So how does the final perfume smell? Ask your child if it's what they expected? Can they think of other things that smell similar? What would they add next time?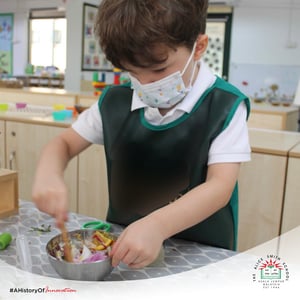 This is a fun activity that your child will enjoy and want to do over and over again!
KeySkills Development:
Discussing ideas and planning
Vocabulary and language skills
Fine motor skills
Counting
Recalling knowledge
And here's Alice and Smith enjoying some perfume making too!

Alice & Smith will be trying out more of the activities over the coming weeks so make sure you follow our Early Years Instagram Feed @KLASS_EarlyYears and subscribe to our YouTube channel to follow their adventures!
Do you want to know more?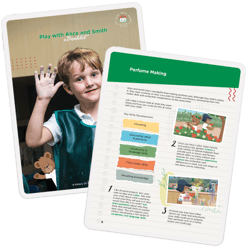 Click here to download our FREE eBook for:
Activities for you and your child to do
Ideas for play at home using simple everyday items
Insights from our experts on how the activities are preparing your child for future success
Information about how our play based approach at Alice Smith works
About Early Years
Our highly skilled and knowledgeable staff provide a challenging, rigorous and engaging curriculum to inspire our youngest students in Early Years. This is supported by teaching which is heavily influenced by a number of recognised approaches as to how children best learn at this age including Reggio Emilia, Anna Ephgrave, Maria Montessori and Alistair Bryce-Clegg.
Environments are carefully planned and created in order to provoke learning, interest, creativity and thought.
Each child is viewed as infinitely capable and intelligent. Our teachers provide support and challenge as our children learn through play. This creates a highly personalised and tailored environment, which is appropriately challenging for each individual child. Our aim is to ensure high levels of emotional wellbeing and involvement. This is characterised by children who are confident, comfortable, curious and eager to experiment and explore. The role of the environment as well as the teacher are continually assessed to ensure we offer a deep and challenging learning experience for all.