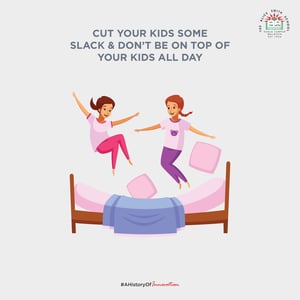 Dan, our Primary Counsellor, shares ten contemplative tips and some more useful resources to help everyone through the MCO.
"Welcome back to term 3 everyone. I'm heartened that the Alice Smith community is coming together at a time when we all naturally feel a little fragmented, and that parent / child feedback has shaped new online offerings this term. I'm also glad there's flex in the system enough to recognise that your child's wellbeing and mental health will be just as important as their academic progress in coming weeks. Do keep that in mind, every single day. Very little is going to feel 'just so' right now.
Recognise that your child's wellbeing and mental health will be just as important as their academic progress in coming weeks
In this age of connectivity, social media and smartphones, the last few weeks have taught us just how vital it is to see each other in person. Whilst we are all benefiting from the ability to stay in touch virtually, we are realising what is missed when we can't be in the same room, walk down the same street or sit across from each other in the local coffee shop. On the flip side, we've become more aware of the need for solitude and how our natural daily flow in and out of the lives of those we love, facilitates a natural gratitude for their presence after the absence of work, school or play. We're perhaps somewhat caught in a liminal psychological space of craving both contact and solitude. Try the ten contemplative tips below to avoid falling in the gaps."
A contemplative rhythm for Covid-19:
Wake with the sun - There is no purer light than what we see when we open our eyes first thing in the morning.
Sit - Mindfulness without meditation is just a word.
Make your bed - The state of your bed is the state of your head. Enfold your day in dignity.
Empty the basket - Do the laundry without resentment or commentary and have an intimate encounter with the very fabric of life.
Wash your bowl - Rinse away self-importance and clean up your own mess. If you leave it undone, it will get sticky.
Set a timer - If you're distracted by the weight of what's undone, set a kitchen timer and, like a monk in a monastery, devote yourself wholeheartedly to the task at hand before the bell rings.
Rake the leaves - Rake, weed, or sweep. You'll never finish for good, but you'll learn the point of pointlessness.
Eat when hungry - Align your inexhaustible desires with the one true appetite.
Let the darkness come - Set a curfew on the internet and TV and discover the natural balance between daylight and darkness, work and rest.
Sleep when tired - Nothing more to it.
You read Dan's 'Thought for the day' on the #KLASSBlog as well as access other lists of useful resources.
Resources
Useful Articles:
Educational resources
Videos
Audio (Poems)
Audio (Podcasts)
Apps:
Online Meditation Courses