The World Literacy Foundation suggests that 'Parents should encourage early reading habits in their children because a learned child can have a bright future and make an impact on society as they grow.' They cite 7 benefits of early reading:
Brain development
Early vocabulary development
Improved reading
Better writing
Better communication
Creating a hobby
Professional skills
With so many benefits it's a great idea to encourage your child to develop early reading skills and a general love of learning. Here's 6 practical ways you can help them.
Rhyming teaches children how language works. It helps them notice the sounds within words. Children need to recognise the sounds that letters make before learning to read.
2. Sharing books
Sharing books develops a love for books. Children need to be interested in books before learning to read. Reading with your child every day will foster a love for reading in later life.
Children need to be able to follow objects with their eyes in order to be able to read. Rolling balls towards targets, playing with bats and balls and playing eye spy will really help.
Talking develops a child's vocabulary. Children need an extensive vocabulary in order to understand what they are reading. Focusing on speaking before reading is instrumental to better reading in future.
Children need to use their fingers and hands independently to hold books and turn pages. Building and construction based activities improve fine motor skills and help a child to manipulate books in later life
Puzzles help children to differentiate size, shapes, lines and direction. These are all skills that children will build upon when learning to read.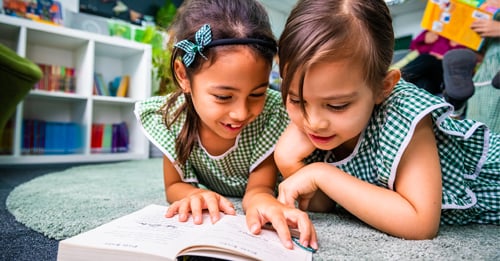 Is your child ready to start school? Click the link below to book your personal tour and discover the exceptional learning experience your child will have here.