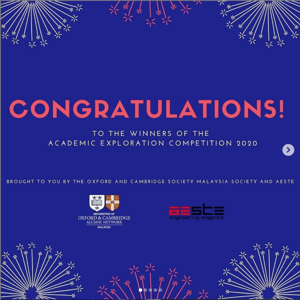 It may be the summer holidays but we are still very excited to hear the news that Rebecca (Year 10) has been awarded 2nd place in the Humanities category of the Academic Exploration Competition held by the Oxbridge Society of Malaysia.
The competition, which was open to students up to Year 13, was held over six weeks in April and May and students had to write an essay of around 1,000 words on the topic:
"What area of our lives do you think will be most indelibly changed by the COVID-19 outbreak and the measures taken to curtail it? What can be done to mitigate or harness the change you have identified?"
Rebecca chose the title "Combating Xenophobia from COVID-19: Its lasting effects and ways we can mitigate it" and said,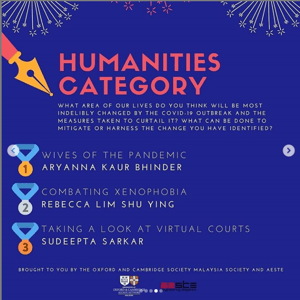 "(It was) mostly out of curiosity, and a little bit of frustration/anger at the alarming rise of racism/xenophobia, that I decided to enter the Humanities essay part of the competition."
Here's what the judges had to say about Rebecca's essay:
"This essay dealt well with a highly complex issue. The issue of xenophobia has existed for a long time, but nevertheless the author of this essay was able to highlight new aspects in an insightful way.
The suggestions for ways to mitigate the impact of the virus were extremely pragmatic - for example, the establishment of private hotlines for the reporting of instances of racism, as a way to overcome the reluctance of some communities to report these instances.
Overall, this essay had a highly convincing tone."
You can read Rebecca's winning essay here.
Congratulations Rebecca - this is a magnificient achievement!