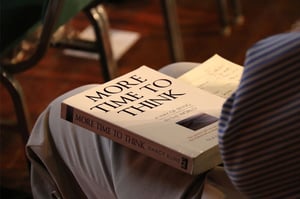 During a 'normal' term we are delighted to offer parents a wide range of workshops to help support their role at home as well as our role at school. These workshops run most weeks during 'normal' term time and cover a wide range of subjects.
Some workshops will be age and year group specific, such 'Transition Meetings' for Year 6 parents or 'Early Reading' for Reception parents, others will be more general in nature covering topics such as 'Positive Behaviour For Learning' or 'Student Health for Happiness' and sometimes we will have a guest speaker on a specialist topic.
While the COVID-19 pandemic has meant the suspension of our 'in person' workshops for the time being, our new Vice Principal for Staff at the Secondary School, Nicola Howard, has recorded her popular workshop on 'Learning Power - helping young people become better learners' which we can share with you.
Learning Power is the ability and the inclination to learn
Learning Power is the ability and the inclination to learn. It is about learning how to be a better learner. It is about the individual learner and their personal 'disposition' towards learning. This is something that can be learnt, practised and improved. It is a learning culture that encourages students and teachers to become better learners. It allows children to approach difficulties in learning without the fear of failure, to take small steps within learning, and it develops confidence. Learning Power allows us to develop a common language for learning across the school and home. We aim to develop our students Learning Power, not just so they can complete school learning more easily and effectively, but so they will leave school with the 'disposition' (a set of habits and attitudes) which will serve them through the journey of life.
You can watch the full presentation here: