Have the St. Patrick's Day ☘️celebrations made you think about the possibility of studying in Ireland? Each year Alice Smith Students progress to Universities and Colleges around the world including Irish Institutions like University College Cork and RCSI. They are able to do this with the support and guidance from our dedicated Higher Educated Counselling team. In this blog we talk to Iseult who chose Ireland as her higher education study destination.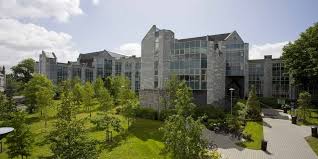 Details:
Iseult Leahy/ KLASS of 2016
Degree: Genetics B.Sc.
University: University College Cork
When did you need to apply?
Applicants from EU/EEA countries apply through the CAO (Central Applications Office).
Early applications are made by January, after this it becomes slightly more expensive to apply.
CAO places are awarded based on a points system, courses with high numbers of applicants require higher points.

Points are based solely on an applicant's grades.

Applicants from outside EU/EEA countries apply directly to the university, usually to the University's international office using their online application system.
What's life like as a university student?
Academics
I picked UCC because of their life sciences department. The university has a history of being a medical institution and there is a high number of pharmaceutical companies in the area.

For those interested in medicine or biology there's lots of interesting research carried out in the university.

Social Life
Many college students live close to campus, and we make up 1/6th of the city's population so there's a great student atmosphere.

Plenty of clubs and societies to choose from (and it's easy to set up your own if you don't find your fit).

I was part of the genetics society which helped me get to know everyone from all years of my course.
Any top tips for application?
No interviews/personal statements required when applying through the CAO (it's all about your grades).
Housing can be quite difficult to find in Ireland many universities have dedicated Facebook pages where landlords post availabilities, or students look for housemates.


For those considering Medicine as an Irish national you may need to sit a

HPAT (Health Professions Admission Test

), International students are usually exempt

. This tests your generic skills, many attend additional tutoring before taking the exam
We'll be exploring lots of other university destinations with our Alumni over the next few weeks and if you want more information on anything you see please contact our

HE Counselling team by email.
And don't forget you can also catch up on our brilliant Academic Lecture series on YouTube.