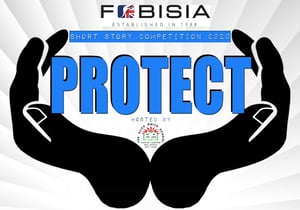 Congratulations to Soraya, from Jerudong International School, who is this year's overall winner of the Secondary category in the FOBISIA (the Federation of British International Schools in Asia) short story competition and also to our runners up Summer, from Taipei European School, and Gan from Help International, KL.
Our judge, Curtis Jobling the designer of worldwide hit children's television show 'Bob the Builder', and the author/illustrator of numerous children's books, said of Soraya's story;
A worthy winner of this category, and the best story in the entire competition to my eyes. A mature writing style with a distinct voice that places it within a world we all know, forged in the literature and stories of America's deep south. And the peach pit itself? Are we talking about that literal thing, or is the entity within something more profound and disturbing? A baby, perhaps, born to a troubled and confused young lady. Quite brilliant. Keep up the amazing work, Soraya.

Here's Soraya's amazing winning story 'Peach Pit'.
Peach Pit
I have a peach pit in my belly. Momma told me it'll grow into a tree and sprout out of my mouth, she said it serves me right. She said I shouldn't go around swallowing peach pits, but she said I shouldn't spit 'em out either. I don't argue with Momma.
I can feel it in my stomach; out of the pit, itty bitty roots have wriggled their way out. Whatever I eat it takes a little bit too. I ate extra chocolate pudding at lunch when Momma wasn't looking so it'll grow big and strong. When I'm in bed all alone and my room looks the same with my eyes shut and with them open I can feel it growing, little by little, inside of me.
On grey days when the sky is like Momma's French onion soup and the rain whispers secrets to the pavement, the tree outside my window says hello. Swish, swish, pit, pat, swish, swish. I think that maybe I could understand what it's saying now that I have a tree of my own inside me, but it isn't a peach tree and I don't think it's talking to me. When I lay real flat I can feel a thump thump like my heart is beating in my tummy. I'm worried my peach tree is gonna try and grow out of my belly button. Tommy said I'm stupid, but he doesn't talk to me much anymore. So I listen to my trees.
Miss Day said my peach pit is the size of a fist. That didn't sound too big but I thought I could feel the branches creeping up my throat. Those little sticks scratched against the back of my throat and I coughed and coughed until Miss Day said that maybe I should come back a week from now. Momma didn't say anything to me on the drive back home. The branches stayed.
I don't go to school now but Lara Drummond saw me when I was with Tommy buying doughnuts at the big mall in the city. She waved at me but her Momma dragged her away before I could say hello. I know Lara likes doughnuts with pink icing just like me so I bought her one just in case I saw her again. The doughnut man looked at me funny, he must think I can't eat two doughnuts all by myself. I tried to tell him that I was only eating one of them but Tommy walked away too quickly and I had to run to catch up.
I think my peach tree is getting too big. I feel heavy walking around like I've got a weight on my back and my front and each step is gonna crack the pavement. I used to be able to run like a rabbit and now I walk as slow as Momma. She said it's a good thing so I can't run off and leave her sight. Sometimes I wish I could just run and run and run and never stop.
When I look in the mirror I think about how my peach pit tree has taken up all of my insides. My bones are branches and my heart is filled up with leaves and my tree trunk stomach is too big for me. I was supposed to see Miss Day today but Momma took me to a different man called "call me Richard sweetheart". He looked me up and down and shook his head and clucked like a chicken and I wish I could move but my tree limbs are stiff as a board.
Today is the day. They're gonna cut my peach tree right out of me. I was scared at first but Momma said it'll be a whole lot worse if they don't and I won't feel a thing. I got to wear a funny gown with little blue flowers and get wheeled around. Tommy pushed me on that chair so fast I thought I'd throw up laughing but Momma whacked him and said to stop or he had another thing comin'. She wheeled me to a cold little room and I got all hooked up to
machines like I was a cyborg in a movie. Momma said that they pumped me so fullah' pain killers that I wouldn't feel it if she shot me right in the leg.
Those doctor people talk like you can't hear them, I wanted to get angry but I couldn't get my tongue to dance out the words and my head felt stuffed with cotton balls anyway. I was gonna just wave my arms around like a mad man but instead my eyes stopped seeing and I was fast asleep.
All they said was, "here she is". Dropped right into my arms a peach with all its flesh grown in around the pit and screaming and screaming. I couldn't bear it, all that crying and wailing and so I shouted SHUT UP SHUT UP SHUT UP and a nurse came and took it away from me. Every time I look at it, it looks like it's rotting and dying and I can't stand it. I just wanted Tommy but he never came into the room, I don't think he wants to be my brother anymore. Momma cooed and clucked at it like she couldn't smell it dying and I closed my eyes. I couldn't sleep but I kept my eyes closed. I decided I was never opening them again. My peach pit escaped my belly. Momma said it serves me right. I don't argue with Momma.
------
Congratulations again to Soraya and also to our two runners up in this category, Summer and Gan.
RUNNER UP
'White Gazelle' by Summer at Taipei European School
Curtis said of Summer's story, "(It was) Really hard to make this a runner up, as it could win any competition, but the quality across the board was so very strong. Summer describes an utterly convincing pair of worlds, from the hardship of Syria to the relative comfort of Turkey. Our protagonist's journey is harrowing, compelling and believable, coming straight from the news and onto the page. Tremendous work, Summer." You can read Summer's story here.

RUNNER UP
'A Knight's Oath' by Gan Yan at HELP International School, Kuala Lumpur
Curtis commented, "A clever subversion of the fairy tale roles that we all know so well, making this very much a "woke" fable for a new age. Whoever said our knight had to be male? Great to see a heroic female lead in such a story, bucking the expectations of the audience. Well done, Gan!" You can read Gan's story here.
We'd would like to say a final huge well done to all the students who entered the competition, our judge Curtis was amazed at the overall standard. We feel honoured to have read your stories and will be looking out for your names on the bestseller list in years to come.