Update May 2022: There were 82 entries from schools across Asia and we were delighted to see the students passions for storytelling, film and animations come through! Congratulations to all the winners including KLASS's own Sophie Lei won the Non-fiction KS4-5 category with her short film entitled Emergensea.
Competition details
Calling all our budding film makers from 7 year olds to 18 year olds! 🎞️🎥📢There has never been a better time to be creative, have fun and work to achieve something that reflects your interests and story. This Online Student Film Festival led by The Alice Smith School is open to all FOBISIA Schools students from Key Stage 2 to key stage 5. The Short Films will be shot and produced in students' homes, or other locations depending on the restrictions in locations throughout the world.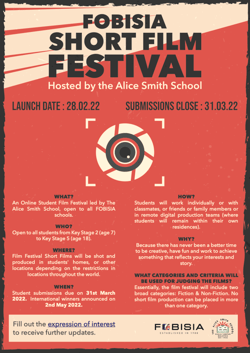 We are really excited to be offering two categories for this competition, fiction and non-fiction. The titles for the films within these two categories are:
We are our own hero
The view from my room
Emergency
Once upon a time during the Pandemic
Hungry for change
Beliefs
We really can't wait for you to share your short films with the KLASS Media department by 31st March.
The competition is open to 7-18 year olds and we will announce the winners from age group 1 (Key stage 2 and 3) and age group 2 (Key stage 4 and 5) in each of the two categories by 2nd May.

Please upload your 2 minute short film with your name, title of film and school name to this

fiction folder

or

non-fiction folder

by

31st March 2022

.



Remember, that your film needs to be suitable for other students to watch, so please stick to the attached BBFC guidelines for a

U

or

PG

friendly film

.



Thank you and good luck!