If you have been to the Primary School you have probably already met Alice and Smith - they are our friendly teddy bears who can often be found sat in Reception. They make regular appearances at our school assemblies and on our social media feeds. They are a fun loving pair who enjoy school and seeing what our children get up to every day! So we thought why not let them join in and show you some of the activities our youngest children in Preschool and Reception experience.
Let's meet them in their classroom...
Here's Alice & Smith exploring some of their favorite areas of the school and enjoying some of the wonderful activities our Preschool and Reception children enjoy every week!
Alice & Smith will be trying out more of the activities over the coming weeks so make sure you follow our Early Years Instagram Feed @KLASS_EarlyYears and subscribe to our YouTube channel to follow their adventures!
Do you want to know more?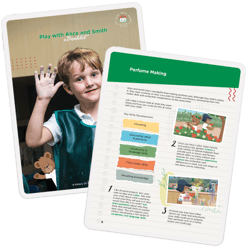 Click here to download our FREE eBook for:
Activities for you and your child to do
Ideas for play at home using simple everyday items
Insights from our experts on how the activities are preparing your child for future success
Information about how our play based approach at Alice Smith works
About Early Years
Our highly skilled and knowledgeable staff provide a challenging, rigorous and engaging curriculum to inspire our youngest students in Early Years. This is supported by teaching which is heavily influenced by a number of recognised approaches as to how children best learn at this age including Reggio Emilia, Anna Ephgrave, Maria Montessori and Alistair Bryce-Clegg.
Environments are carefully planned and created in order to provoke learning, interest, creativity and thought.
Each child is viewed as infinitely capable and intelligent. Our teachers provide support and challenge as our children learn through play. This creates a highly personalised and tailored environment, which is appropriately challenging for each individual child. Our aim is to ensure high levels of emotional wellbeing and involvement. This is characterised by children who are confident, comfortable, curious and eager to experiment and explore. The role of the environment as well as the teacher are continually assessed to ensure we offer a deep and challenging learning experience for all.