One of the highlights of the 75th Diamond 💎 Gala Ball will be the live auction with amazing items, auctioned off by our Head of School, Mr Roger Schultz. Attendees can support our various activities on the evening to raise funds for our Endowment Fund and the work of the Foundation, helping to sustain our not-for-profit school as a regional and world leader in education for the next 75 years.
Our Live Auction items
Our first item is a wonderful painting of a Malayan Tiger by our former parent Gladys Simpson. You can see this fantastic work of art taking shape in the video below which shows Gladys' wonderful skill and talent at work. The final piece will look superb in any room! If you are interested in seeing more of Gladys' work follow her on instagram @gladyssimpson_art.
Our second piece is 'The Hug' by Alice Chang. It is the act of a hug that inspired the artist in creating The Hug. It symbolises a place where individuals sit together and share the act of hugging. Particularly a hug between a mother and child, is the most nurturing act that creates an everlasting bond, as hugging is an effective way in treating stress, depression, anxiety and loneliness.

The main colour chosen for this piece is meant to soothe yet evoke calmness and acceptance. Coincidently, the shade also falls under the United Kingdom's royal family colour as well as Thailand's. A truly unique and beautiful piece that is also made from 100% recycled materials.
In addition to donating this wonderful artwork to our auction Alice has also been working with a group of our EP students in an ECA to create their own fantastic mosaic pieces using recycled materials which you can also bid for in our silent auction.
You can find out more about Alice and her Lai Lai Studio on her website.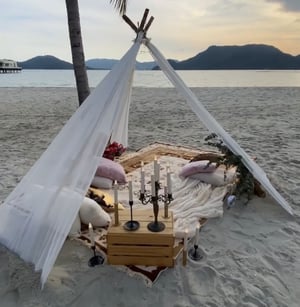 Not able to offer a home to one of the amazing art pieces? Then maybe an unforgettable experience in Langkawi might be of interest?
Temple Tree Resort in Langkawi have donated a 3D/2N stay for 4 persons in the two bedroom suite of the Temple Tree's Malaysian style homes. The package includes a daily floating breakfast at the swimming pool, a complimentary bottle of Prosecco in the room upon arrival and a private sunset picnic by the beach with snacks and drinks from 6pm to 9pm.
Or maybe you would prefer the luxury of the Four Seasons Langkawi who have generously donated a 2 night stay in a Deluxe Family Beach Villa (inclusive of breakfast) for 4 persons at the Four Seasons Resort Langkawi.
Do you ❤️ Oysters? Then the last of our live auction items is for you! Southern Rock Seafood has donated a year's membership to their Just Shuck It Oyster Lovers Club! Membership of the club includes:
52 Dozen oysters! That's a dozen a week for a whole year; or use them all at once and host an Oyster party at home with their champion shuckers. Or maybe a do a bit of both! All with your choice of their finest seasonal oysters.
Exclusive invitations and free merchandise
Check out their video below 👇 for more information on this fabulous prize:
A big thank you to Gladys, Alice, Southern Rock Seafood, The Temple Tree Resort and The Four Seasons for their support and generous donations. We are sure they are going to raise a fantastic amount for The Alice Smith School Foundation!