"Highly effective teachers are able to produce much greater gains in student achievement than their less effective counterparts."
Pamela D. Tucker and James H. Stronge, Linking Teacher Evaluation and Student Learning
Simply put, the better the teacher, the more likely students are to succeed. The studies quoted in the book above illustrate not only that quality teachers determine the quantity of what students are learning, but also how the effectiveness in the way they are teaching stays with the students for years.
Here at Alice Smith, we hire high-quality teachers because of this correlation. When recruiting we use five characteristics to guarantee new members of our team fall under the definition of highly effective educators.
We hire teachers who love working with young people, are team players, are positive and solutions-focused and, one of the most important characteristics, are committed to lifelong learning.
Continued Professional Development for Teachers

Investing in our teacher's continued professional development (CPD) provides them with the opportunity to grow as professionals.
Our environment and facilities give them the resources to develop the innovative approaches to teaching which Alice Smith is known for and the strong coaching culture provides the framework support for them to confidently work within.
Personal reflection and identification of areas of strength and for development are fundamental to teacher's professional growth.
At Alice Smith, our teachers learn in peer partnerships, sharing professional readings and discussions based upon action research. They participate in peer observations and collaboratively plan, teach and reflect upon lessons.
The whole professional growth model is underpinned by coaching and our professional growth programme has breathed new life into our approach to 'lifelong learning' and valuing the importance of quality staff development.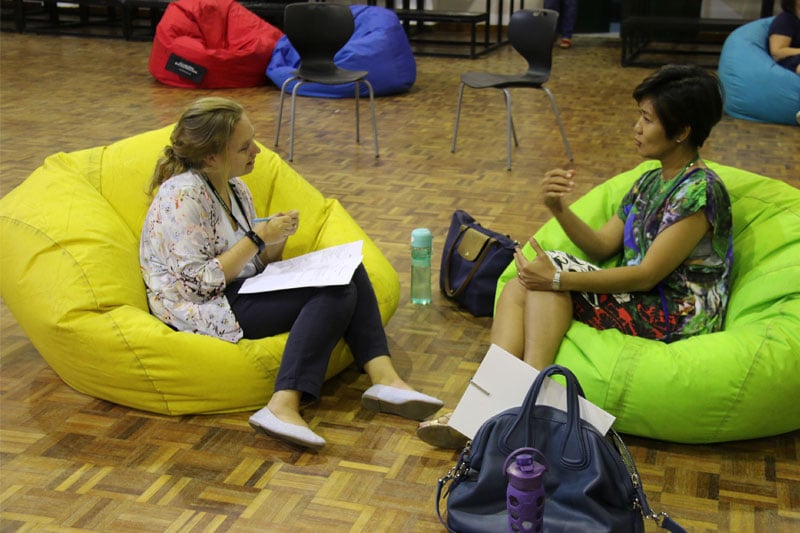 Why Should Parents Care?
Constant improvement and innovation:

At Alice Smith, our teachers are highly qualified and experienced and through their CPD are constantly looking for ways to innovate and improve the outcomes for all our students.

Stability:

Our CPD programme makes teachers feel valued and developed which means they stay with us longer. On average an Alice Smith teacher stays for six years, ensuring stability and continuity in our school and our students' education.

We attract the best British teachers:

When we do need to recruit our reputation of care and development of our staff means we are able to attract the best teachers from the UK, with over 80% of our teachers being British, ensuring our excellence in teaching and learning is maintained.
The value and importance Alice Smith puts on the professional growth and development of our staff has been recognised by the achievement of the Gold Level Professional Development Quality Mark (PDQM) in 2019 awarded by the Institute of Education at University College London (UCL).
The PDQM was developed by experienced Professional Development Leaders in partnership with specialists at the London Centre for Leadership in Learning to improve professional development practice in schools and educational settings across London, and beyond.
At Alice Smith, we are proud to be the first international school to achieve this standard worldwide, but even prouder of the fantastic work our teachers do every day as they deliver our innovative British curriculum.