Who doesn't love a freshly squeezed glass of juice to cool down? This is a great activity to do with your child who will get so much more from it than a healthy refreshing juice.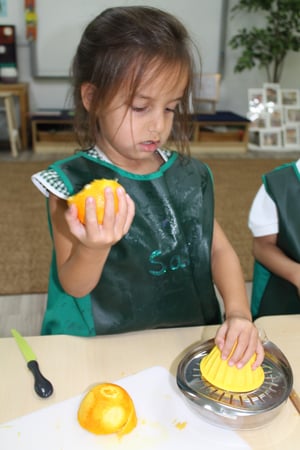 When you get the fruit and juicer out, ask your child 'What do you think we are going to do?' and 'What could we do?'. This questioning will develop your child's communication and language skills. Talk about the differences between the fruits and activities of 'juicing', 'zesting' and 'grating' to expand their vocabulary.
Help your child cut the fruit - this is an opportunity to talk about halves and quarters, developing early maths skills.
The juicing itself works the muscles all the way from your child's shoulder to their fingers which is essential for excellent writing, as you must develop these muscles first. You could also do the activity standing up helping to develop your child's core muscles.
Juicing, in particular, also develops strength. There are other great activities to develop hand strength, such as playing with play dough and scrunching paper, but juice-squeezing adds the challenge of following an organised activity, expanding your child's awareness and concentration. And a great way to get one's Vitamin C!
With so much learning in one activity - don't forget to enjoy the juice together at the end!
Here's Alice and Smith enjoying some juice too!
Alice & Smith will be trying out more of the activities over the coming weeks so make sure you follow our Early Years Instagram Feed @KLASS_EarlyYears and subscribe to our YouTube channel to follow their adventures!
Do you want to know more?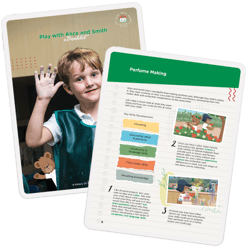 Click here to download our FREE eBook for:
Activities for you and your child to do
Ideas for play at home using simple everyday items
Insights from our experts on how the activities are preparing your child for future success
Information about how our play based approach at Alice Smith works
About Early Years
Our highly skilled and knowledgeable staff provide a challenging, rigorous and engaging curriculum to inspire our youngest students in Early Years. This is supported by teaching which is heavily influenced by a number of recognised approaches as to how children best learn at this age including Reggio Emilia, Anna Ephgrave, Maria Montessori and Alistair Bryce-Clegg.
Environments are carefully planned and created in order to provoke learning, interest, creativity and thought.
Each child is viewed as infinitely capable and intelligent. Our teachers provide support and challenge as our children learn through play. This creates a highly personalised and tailored environment, which is appropriately challenging for each individual child. Our aim is to ensure high levels of emotional wellbeing and involvement. This is characterised by children who are confident, comfortable, curious and eager to experiment and explore. The role of the environment as well as the teacher are continually assessed to ensure we offer a deep and challenging learning experience for all.