Looking for something to do in the holidays? While not try some of our traditional Easter recipes? Don't forget to tweet us your baking pictures @AliceSmithSch Or send us a new recipe to try!
Easter Millionaire's Shortcake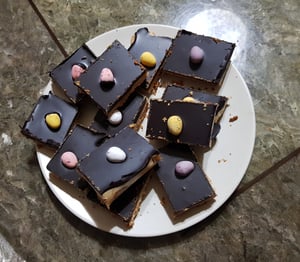 To make 12 large pieces you will need
For the base:
150g plain flour

50g caster sugar

150g cold unsalted butter, cubed, plus extra for greasing

1 tsp vanilla essence
For the caramel:
405g tin light condensed milk

80g unsalted butter, cubed

2 tbsp golden syrup

50g light brown sugar
For the topping:
200g dark chocolate, roughly chopped

12 Chocolate eggs
How you do it
Grease a 20cm square cake tin and line the bottom and sides with baking parchment. Put the flour and sugar into a food processor and blitz until combined. Add the butter with the vanilla and blitz until the mixture resembles sandy breadcrumbs. (If you don't have a food processor you can do this by hand in a bowl). Tip the mixture into the prepared tin and pack down lightly until level using the back of a metal spoon. Chill for 30 minutes.
Preheat the oven to 180°C/160°C fan/gas mark 4. Once the biscuit base is chilled, bake for 30 minutes until just golden, then allow to cool.
To make the caramel layer, put all the ingredients into a medium heavy-bottomed saucepan over a medium heat. Bring to the boil and stir for 5-6 minutes until thickened and slightly darker in colour. Remove from the heat and pour over the cooled shortbread. Chill in the fridge for 30 minutes.
Put the chocolate into a heatproof bowl set over a pan of barely simmering water and stir until melted (alternatively you can melt the chocolate in the microwave). Let the chocolate cool for 5 minutes before pouring it over the caramel. Scatter the eggs over the chocolate and allow to set in the fridge for 20 minutes, or until the chocolate has just firmed up but is still soft enough to cut with a knife. Remove from the fridge and allow to come to room temperature, then carefully remove the tin and cut the shortbread into 12 squares.
(Recipe tested by Erin, year 7, and adapted from Sainsbury's)
Easter nests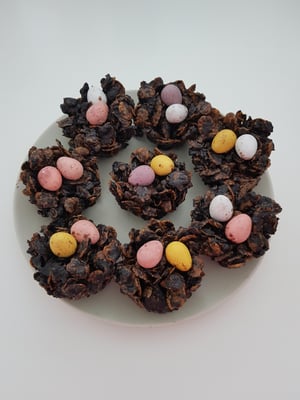 To make 10 Easter nests you will need:

225g Chocolate
50g Butter
2 tbsp Golden Syrup (or honey)
100g Cornflakes (though Shredded wheat or Rice Krispies also work)
A small bag of mini eggs
Paper cake cases and a muffin tray


How you do it
Put 10 paper cases into the muffin tray
Melt the milk chocolate, golden syrup and butter in a small glass bowl over a saucepan of gently simmering water. Stir regularly with a wooden spoon until the mixture is completely melted and glossy with no lumps. Remove from the heat.
Add the Cornflakes to the bowl stirring gently until they are covered in the melted chocolate.
Spoon the mixture into the 10 cases, dividing evenly. Use your index finger to create a well in the centre of each nest. Add a few Mini Eggs to each nest.
Leave to cool and in the fridge for 2 hrs
Biscuit Recipe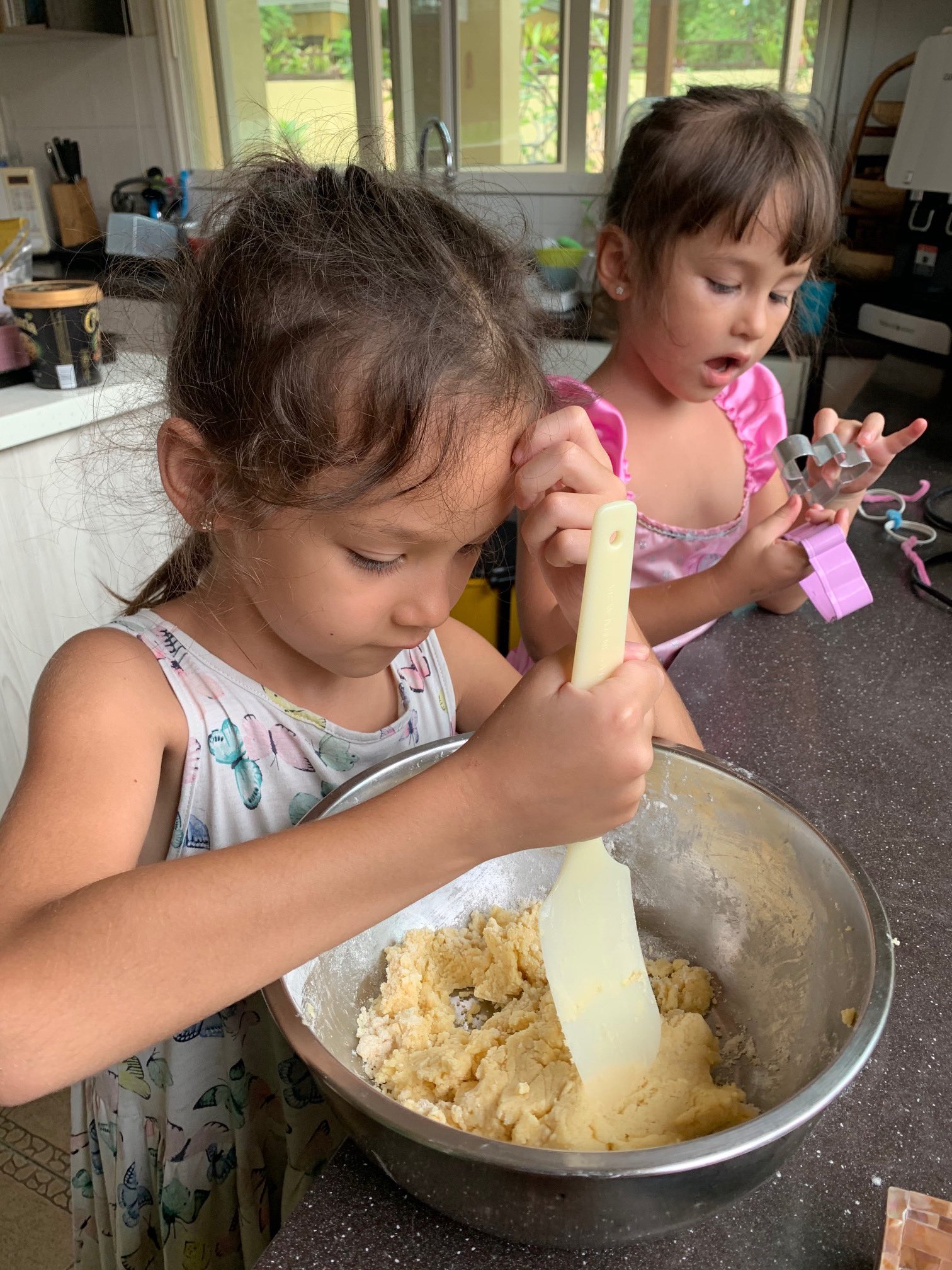 Our Primary School students made biscuits as part of their virtual learning activities last term.

To make 12 biscuits you will need:

7 tablespoons of softened butter
6 tablespoons of caster sugar
1 large egg
½ teaspoon of vanilla extract (optional)
13 tablespoons of flour


How you do it
Ask an adult to heat an oven to 200C/180C fan/gas 6 and line a baking sheet with baking parchment.
Put the butter in a bowl and beat it with a spoon until soft and creamy.
Beat in the sugar, then the egg (and vanilla), and finally the flour to make a dough. If the dough feels a bit sticky, add a little bit more flour and knead it in.
Pull pieces off the dough and roll them out to about 1cm thickness on a floured surface.
Cut out shapes using a biscuit cutter or you could use the rim of a small glass and peel away the leftover dough around the edges.
At this point you could use a blunt knife to create a pattern in the biscuits. Remember to press gently with the knife.
Transfer the biscuits to a baking sheet and bake for 8-10 mins or until the edges are golden brown.
Leave to cool for 5 mins and then serve. The biscuits will stay fresh for three days in a biscuit tin.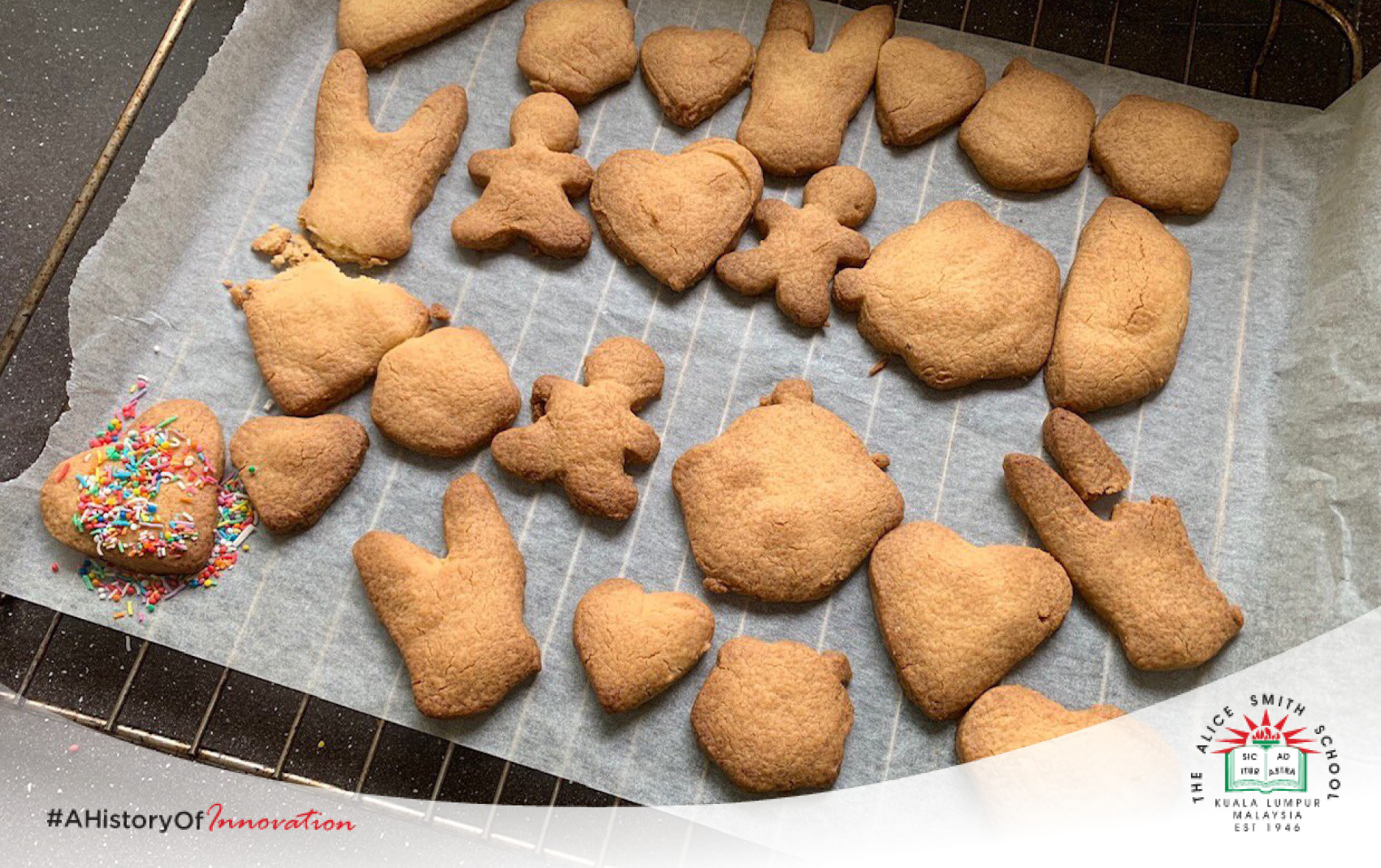 Hot Cross Buns
"One a penny, two a penny Hot Cross Buns" are traditionally eaten on Good Friday.
You will need: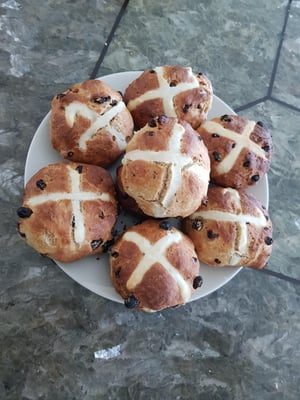 500g strong white bread flour plus a little extra to make the crosses
½ tsp salt
2 heaped tsp mixed spice
50g caster sugar
50g

butter
200g dried fruit (We used raisins and sultanas but you could use mixed dried fruits or add dried cranberries for a change!)
7g sachet easy-blend dried

yeast
200ml

milk
2

eggs




How you do it:
Mix the flour, salt, mixed spice and sugar in a bowl.

Rub in the butter with your fingertips. Stir in the dried fruit, then sprinkle over the yeast and stir in. Gently warm the milk so it is hot, but still cool enough to put your finger in for a couple of seconds. Beat with the eggs, then pour into the dried ingredients.

Using a blunt knife, mix the ingredients to a moist dough, then leave to soak for 5 mins. Take out of the bowl and cut the dough into 8 equal pieces.

Shape the dough into buns on a floured surface. Space apart on a baking sheet, cover loosely with cling film, then leave in a warm place until half again in size. This will take 45 mins-1 hr 15 mins, depending on how warm the room is.

When the buns are risen, heat oven to 220C/fan 200C/gas 7. Mix the flour with 2 tbsp water to make a paste. Pour into a plastic food bag and make a nick in one of the corners. Pipe crosses on top of each bun.

Bake for 12-15 mins until risen and golden.
(Based on a recipe from BBC GoodFood)

Many thanks to our recipe testers!