Every year we encourage Year 8 to become the architects of their dream islands which they are tasked to bring to life and then promote to their year group. You name it, they've created it. We have been welcomed to islands bringing computer games to life, offering luxury resorts with 4 seasons in one day, enabling 100% eco-friendly tourism, empowering visitors to revisit decades of their choice and more. Year 8 have no limits to their imagination! In this week's Secondary Blog, Anna Phillips, Assistant Head of Department for English and Coordinator of the Year 8 Island Project, tells us more about this year's entries.
During the project, students work on their creativity, credible specific details, engagement of target audiences, persuasive techniques and spoken presentation skills. Most of all though, they work on their team work. Every Year 8 student will present in class as a team, and then the top teams present in front of their whole cohort - so we can share and celebrate their hard work and interesting ideas!
Here's a taster of the eclectic islands from 2023 so you can enjoy them too.
MILLENNIA was the unanimous winner of 2023 with this team being chosen by the judges, Ms. Helas and Ms. Stewart-Williams, as the most persuasive and appealing. Their island allows you to visit any time period you want from experiencing the past, reliving the present or getting a sample of what is to come! Thank you to the judges for their feedback and they said: "Your well-organised presentation included an excellent array of persuasive devices throughout. You all delivered your sections confidently, engaging the audience. Your creative and innovative island, particularly the ability to time travel and the ideas you had around the past, present & future, made both judges feel like we really wanted to visit Millennia."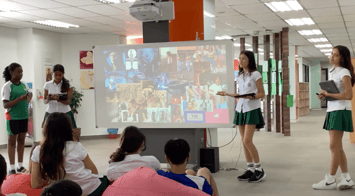 Well done to Jane, Rameesah, Nadine and Misha!
PURPLE CREST brought energy and drama to their island engaging their audience in so many different ways - so much so that they were the top choice in the student vote on which island they would visit! The judges also said: "There were so many fun surprises in your well-rehearsed presentation! You thought carefully about props and actions, which really helped with audience engagement. Your creativity and team work really shone through. Your group used humour effectively and made sound language choices. It was also great to see that you thought about diversity and delivered your presentation without devices."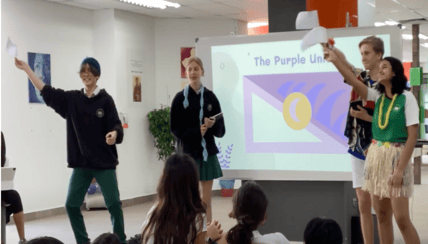 Well done to Kenisha, Lachlan, Ruby and Max!
EVERYLAND offered their audience everything with unlimited choice being one of their island's many appeals! The judges said: "Well done to Everyland for being the first group to present to your entire year group! You had lots of details in your presentation and some clever ideas - your island came across as limitless in terms of its possibilities. You demonstrated your country's language effectively and included some humour to engage your target audience."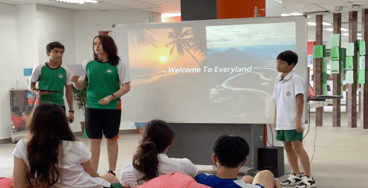 Well done to Yusuf, Evan and Azmeer!
SHIKOSA worked together so well as a team and had a particularly cohesive concept focused on the well-being of the world and eco-friendly travel. The judges commented that: "We enjoyed how you engaged the audience with your introduction music, sharing your invented money with Year 8 and well-timed choral elements at the end of your pitch. Your presentation slides included thoughtful language and well-selected images. Considering your island's instrument and traditional art were examples of how much thought you had put into the details of Shikosa. Your cake was a sensational creation too!"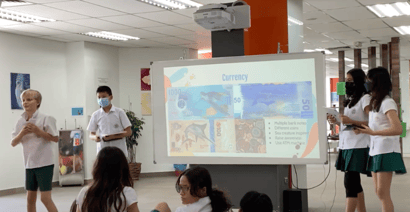 Well done to Hannah, Yushan, Inaya, Felix and Megan too!
LANI MOKUPUNI offered us so much thoughtful detail on the culture and various regions of their Hawaiian-inspired island! The judges thought: "You dressed to impress! We liked how you created detailed and informative presentation slides that included wonderful images. We found your island's history and backstory engaging to learn about. Your group's presentation included rhetorical devices, was clearly well organised and delivered with passion. The brochure you created was also informative to read."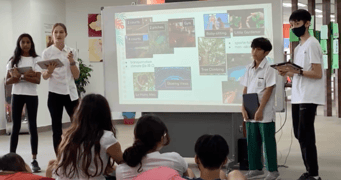 Well done to Adam, Lucas, Layla and Anjanaa!
Congratulations to all students involved in the project and a huge thank you to Ms Phillips for making it happen.
Wishing you a wonderful weekend!
Maria Osowiecki
Secondary Principal