Whether you celebrate World Book Day on the 3rd of March in the U.K. or on the 23rd of April internationally, there is one thing for sure that we want to celebrate here: books! 📚📖And as the 23rd April is a Saturday this year KLASS will be celebrating on Friday, 22nd of April!
We love the costumes (we really do!), we love the competitions, we love the zany photos. However, there is one thing that we love more than anything else which is dropping everything to read. Actually focusing on the books. World Book Day without reading is like hot chocolate without marshmallows; both are delicious apart but much better when put together. Every day should be an opportunity to read, but on World Book Day we want to put on the brakes, reminding ourselves to take and make those opportunities to read.
Therefore, over the next few weeks we will be sharing some top reading choices with you all from the Alice Smith community and Matt Dickinson, a world-famous author, film-maker and explorer who has kindly shared some of his best books of the moment with us for World Book Day. Matt has visited the school before multiple times, hypnotising our learners with tales of intrepid expeditions up Everest and more. With his experience filming for National Geographic and the writing of multiple novels like Mortal Chaos and The Everest Files series, he knows how to both tell a thrilling tale - and recommend one!

Here he is with the first of three videos recommending some reads: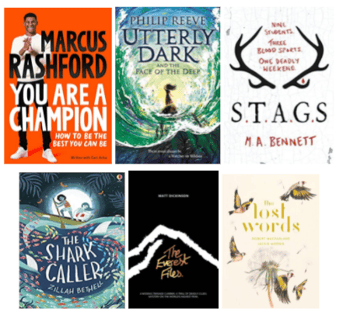 MATT DICKINSON'S TOP PICKS:
Marcus Rashford, 'You are a Champion'
Philip Reeve, 'Utterly Dark'
M.A. Bennett, 'S.T.A.G.S.'
Zillah Bethell, 'The Shark Caller'
Matt Dickinson, 'The Everest Files'
Robert Macfarlane and Jackie Morris, 'The Lost Words'
FROM THE ENGLISH TEAM TO YOUR 'TO READ' LIST:
The English team are here to share their go to reads of the moment as well with some books we think you might enjoy:
"I would absolutely recommend this novel, When the Sky Falls by Phil Earle, to all KS3 students - and everyone else too, to be honest! It had me gripped from the moment I started with the backdrop of the war, the turmoil of evacuation and Joseph's sometimes humorous, sometimes emotional adjustments to his new home. I enjoyed the intriguing descriptions of the relationship between Joseph and the silverback gorilla, Adonis, that he ends up guarding in the zoo. Plus, the book blurb sets you up to ponder Joseph's dilemma: ' Will Joseph be ready to pull the trigger if it comes to it?' It becomes even more moving when you realise that it has been based on a true story."
Ms. Anna Phillips

"The Wall by John Lanchester was one of my top picks from last year and I would recommend it to KS5 learners, and anyone interested in the environment as well. This cli-fi tale is a post-apocalyptic fiction set in the near future when an event called the Change has caused ocean levels to rise, land to disappear and people to build walls around their island nations. Basically, it's a what might happen if there were less land on the Earth and we had to share story, but sadly in this scenario no one wants to share. I really enjoyed the descriptions of the life of the Defenders on the wall and the difficulty of the moral choices they have to make over letting people in or blocking them out.
Ms. Anna Phillips

"You may recognise the author's name for this novel…Adichie - whose famous TED Talk 'The Danger of Single Story' is studied in IGCSE English Language - wrote this novel about a teenage girl called Kambili growing up in postcolonial Nigeria. Her life is dominated by religion and her violent father, but when she and her brother have the opportunity to spend time with their aunt and cousins, they discover a life beyond the confines of their father's authority. Purple Hibiscus is a novel I'd recommend to our students in KS4 and above and although its mature themes make it tough to read in places, it tracks the turmoils of adolescence, the powerful bonds of family, and the bright promise of freedom in a beautiful, uplifting way.
Ms. Caitlin Gray

"Clap When You Land is a novel-in-verse (which means that it's written in poetic form!) which tells the story of two teenage girls whose lives are brought together after a tragic accident. Camino Rios lives in the Dominican Republic and looks forward to the summers when her father comes to visit. One day in New York City, Yahaira Rios is called to the principal's office, where her mother is waiting to tell her that her father - her hero - has died in a plane crash. Separated by distance - and their father's secret - the two girls are forced to face a new reality in which their father is dead and their lives are forever altered. This story is vividly told through verse, making it quite a quick read. Also, if you enjoy audiobooks, the author Elizabeth Acevedo reads her own stories bringing the tale to life in slam poetry style! Well-suited to Year 9 and above.
Ms. Caitlin Gray

"An oldie, but goodie for KS5: Ken Kesey's 'One Flew Over the Cuckoo's Nest'. Randle McMurphy (played by Jack Nicholson in the 1975 film) gets transferred from a prison to a mental health institution, which he wrongly presumes will be less restrictive. What unfolds is a battle of wills between the antagonist, Nurse Ratched (inspiration for Netflix 2020 TV Drama) abusing her institutional power and McMurphy who revolts and influences other patients. This memorable and poignant novel is filled with colourful characters and although it is comedic in parts, it is a thought-provoking commentary on the treatment of mental illness and the spirit of individualism."
Ms. Sumay Helas
Check back next week for Matt's next video and more book recommendations!