In a powerful and inspiring session on Monday, 6th November, the Honorable Dr Stuart Lawrence visited the Secondary Campus, engaging with students, parents, and teachers in a transformative dialogue.
The latest instalment of the school's 'Conversation With…' speaker series featured Dr Lawrence in conversation on stage, hosted by Stefan Rodic and Sian May, captivating an audience of 75 parents and teachers. His discussion delved deep into his life journey, emphasising the importance of courage, self-assessment, and the impact of personal narratives, especially following the tragic loss of his older brother, Stephen.
Dr Lawrence's animated discussion centred on the necessity for young people to cultivate self-confidence, steering away from comparisons with external standards. He challenged the prevalent influence of media and partial representations of celebrity life, stressing the importance of understanding that these portrayals do not reflect the full spectrum of reality.
As an educator, Dr Lawrence passionately advocates for a paradigm shift, encouraging a mutual learning experience between students and teachers. His belief is that every day provides an opportunity for growth and learning, for both adults and children.
One focal point echoed by our Head of School, Sian May was the importance of creating an environment where every child feels a sense of belonging. By fostering a community of mutual understanding and respect for individual boundaries, learners embrace both positive and challenging experiences.
Audience engagement brought forth insightful inquiry, including strategies for combatting negative thoughts. Dr Lawrence underscored the importance of self-perspective, urging individuals to anchor themselves in their foundational strengths and values.
Reflecting on his personal experiences, particularly regarding the protests after his brother's tragic death, Dr Lawrence highlighted the significance of maintaining dignity while channelling internal strength to drive the message forward, rather than succumbing to external pressures.
The visit included three workshops with our senior students, Ad Astra prefects and Head Students led by Dr Lawrence, which focused on managing the challenges of school and life. These sessions offered real-life examples of navigating various obstacles. The discussions provided a safe space for students to ask significant and emotive questions, leading to powerful conversations about student leaders having the confidence to speak up and advocate for themselves and their peers. The ultimate takeaway for many was the importance of being kind, humble and showing integrity at all times.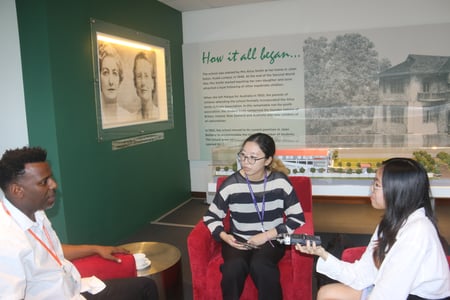 In an exclusive interview with the KLASS Chronicles student newspaper, the students explored further questions with Dr Lawrence, to understand his journey to becoming a dedicated educator and motivational speaker and about being the younger brother of Stephen Lawrence, whose life was tragically cut short in an unprovoked racist attack. Dr Lawrence reaffirmed his mission, encapsulated in his book "Silence is Not an Option: You Can Impact the World for Change." to champion the transformation of young lives through his advocacy. The book serves as a self-help guide, drawing from his teaching career and his personal journey, aiming to empower young minds irrespective of skin colour, encouraging them to demand a better society.
Dr Lawrence is also the author of "Growing Up Black in Britain: Stories of courage, success and hope" which explores what it's like to grow up Black or with a dual heritage in Britain. He engages with eight inspirational figures about their childhood experiences, offering insightful perspectives. Dr Lawrence also shares his own experiences in this exploration.
Dr Stuart Lawrence's visit was an inspiring call to action, emphasising the resounding message that speaking out and standing up for change is always worthwhile. His encouragement to 'stand up, speak out, and be the difference' resonates deeply with the students at Alice Smith School, leaving a lasting and encouraging impression for the pursuit of positive change.
https://stuartalawrence.co.uk/
Watch the full recording with Dr Stuart Lawrence below.