Holidays allow individuals time to truly celebrate or commemorate a significant event or tradition. What is beautifully unique from country to country is the difference in either the specific celebration of a holiday or the holidays themselves.
For those who are new to Malaysia or even those who have been here for a while, but haven't had the time to learn about our celebrations, we wanted to give you a guide to some of the national holidays in Malaysia and the significance behind them.


1. Chinese New Year
Chinese New Year and Chinese New Year Holiday are rich in traditions and rituals.
A month before the date of the New Year, individuals begin buying presents and decorating materials, food and clothing - quite similar to the western tradition of Christmas and New Year's.
Before the New Year, it's tradition to clean up one's home, sweeping it from top to bottom to remove any remnants of bad luck. People even refresh their doors and window panes with a new coat of paint.
On Chinese New Year's Eve, rather than wear sparkles as customary in western cultures, people wear red to fend off evil spirits. The night is filled with celebrations, fireworks and a delicious family union dinner.
On Chinese New Year's Day, a tradition known as Hong Bao takes place. Married couples give children and unmarried adults money in red envelopes and couples give money to their parents. At the end of this celebration, there is a Festival of Lanterns on the next full moon. During this night, there is singing, dancing and lantern shows.
Be sure to catch a Lion Dance as well during the holiday. The lion dance is one of the most important traditions at Chinese New Year. It is performed to bring prosperity and good luck for the upcoming year. The lion, a symbol of power, wisdom, and good fortune, chases away evil spirits and brings happiness, longevity and good luck.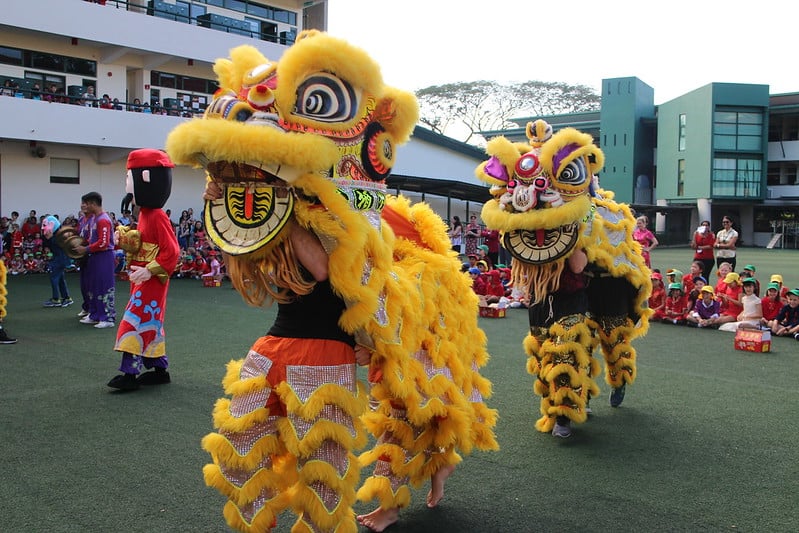 2. Labour Day
On May 1st, people in Malaysia take the time to remember the economic and social accomplishments of the labour movement.
Also known as May Day, this holiday is sometimes celebrated with groups organizing parades and/or rallies to promote and protect workers' rights.
3. Wesak Day
The Holy Day for Buddhists is Wesak Day and is widely known as the holiest day in the Buddhist Calendar.
In Malaysia, it is one of our major festivals and is held annually on the Sunday nearest to the full moon in May. Buddhists spend the entire day meditating at temples.
At the Vihara Temple, after a day of meditating once evening arrives, a candlelit procession is held from the temple to the Kuala Lumpur city. Thousands of Buddhists and spectators watch as a decorated float with a statue of Buddha makes its way down the chosen route. Following this is an open-air blessing service including a lesson about the significance behind Wesak Day.
The importance of this national holiday is around three significant occurrences in Buddha's life: his birthday, the enlightenment and his achievement of Nirvana.
4. Hari Raya Aidilfitri
This national holiday marks the end of Ramadan. With Hari Raya Aidilfitri and Hari Raya Aidilfitri Holiday the day after, these celebrations are of great significance to Muslims.
Ramadan is the one month of fasting where Muslims do not eat nor drink from dawn until dusk. This is a time for Muslims to show their self-control and their commitment and love to Allah.
In preparations for Hari Raya Aidilfitri, new clothes are purchased for the family, with the women sewing beautiful, new curtains to make the home look even more welcoming. On the morning of this celebration, Muslims wear their new clothing and go to the mosque to pray. Then, individuals celebrate with family and friends over a delectable feast consisting of - but not limited to - ketupat, lontong, nasi padang and beef rendang.
5. King's Birthday
This significant national holiday celebrates the King of Malaysia's birthday.
Celebrations include a Trooping of Colours and an exciting performance by a military band symbolizing the Malaysian Armed Forces' pledge of loyalty to His Majesty.
6. Hari Raya Haji
Hari Raya Haji is a Muslim celebration to honour Prophet Ibrahim's willingness to sacrifice everything for God.
To celebrate this national holiday, Muslims dress in new or special clothing, meet with family and friends and hold Eid gatherings. It's also customary to bring gifts for the children.
7. Awal Muharram
Awal Muharram signifies the Islamic New Year and the Prophet's journey from Mecca to Medina in 622AD.
This federal holiday in Malaysia is celebrated by Muslims engaging in religious activities and meetings and spiritual singing. Common foods consumed during this holiday include Bubur Asyura, a delectable rice porridge shared with family and friends.
As with most new year celebrations, Awal Muharram is a time to make resolutions.
8. National Day
To mark Malaysia's Independence, the country celebrates National Day annually on August 31. To celebrate such a significant day in history, communities are decorated with flags and bright lights to illustrate the unity of all races and faiths. In the morning, the celebrations begin in Merdeka Square where the King and government leaders become one with the thousands of spectators.
This is a time where you will see a true sense of patriotism with people all over flaunting the Malaysian flag and festivities continue through the month until Malaysia Day.
9. Malaysia Day
Held annually on Sept. 16, this national holiday is to commemorate the union of the former British colony of Singapore and the East Malaysian states of Sabah and Sarawak with the Federation of Malaysia to create the Malaysian Federation.
To celebrate, a parade is held to show Malaysian pride and honour this historic moment.
10. Deepavali
The Hindu Festival of Lights is known as Deepavali (deep - lamp, vali - array). This is the name of the festival in Southern India and is how the festival is referred to in other Asian countries such as Malaysia and Singapore. In Northern India and other parts of the world, it is more commonly known as Diwali, but they are essentially the same celebration.
To celebrate families, friends and business associates exchange gifts and sweets, settle old business deals and are encouraged to rid themselves of hate, anger and jealousy. In their homes, people light small oil lamps called diyas.
11. Maulidur Rasul
Celebrated in the third month of the Muslim calendar, Maulidur Rasul is to honour the birth of Muhammad, the founder of Islam and the proclaimer of the Qur'an.
To celebrate, there are religious lectures and readings from the Qur'an in light decorated-mosques.
12. Christmas Day
This national holiday celebrates the birth of Jesus Christ.
Though the celebrations of this day have grown beyond religion with some families using this holiday to spend time with one another, eat delicious festive meals, decorate the house with a Christmas tree and lights outside and give each other gifts.
We hope you enjoyed learning the significance behind the national holidays in Malaysia. When selecting an international school for your children, it's important to look for a facility that also teaches them the culture, history and traditions of the country you're living in.
We know choosing a school is a daunting process with endless resources at your fingertips. To make the search easier and to better understand what makes an international school stand out from the rest, we've created an admissions checklist.
This article was brought together with the help of Office Holidays.